The circus is widely regarded as a place of euphoria; where one can engage in an enchanting illusory world; where the tricks of animals and humans alike are seen as nothing short of magical. Whilst many of us share this sense of nostalgia, many are not aware of what occurs beyond those red velvet curtains.
After the shocking video of Annie the Elephant being hit repeatedly with a pitchfork, released earlier this year, animal lovers and members of the public have called for government action to prevent wild animals from future sordid treatment. A ban on the use of wild animals in circuses has been proposed as a result with Conservative MP Mark Pritchard being the forerunner in the campaign. Pritchard labels the use of animals in circuses as a primitive and cruel practice. The MP has received support from celebrities, other MPs, and the Association of Circus Proprietors of Great Britain.
Despite countless attempts to avoid implementing the ban, last Thursday MPs had no choice but to debate the request that wild animals be removed from circus entertainment. Government officials have used "pathetic excuses", as stated by Hilary Benn the Shadows Commons Leader, to avoid actualising the proposition. Some of which include the claim that there is a potential loophole that could allow circuses to overturn the ban under the Human Rights Act or EU cross-border selling regulations. The attempts have been proven futile. A Whitehall official dismissed this as a possibility a couple of years ago, when it was first announced. Furthermore the European Commission (EC) recently responded to these claims stating that individual member states can make legitimate exemptions to the European Union (EU) Services Directive on animal welfare grounds. With the government currently unable to use Europe as a scapegoat, the insistence for a ban is reignited. More than 31,000 people have signed an online petition requesting the government to follow through and end the use of wild animals in circuses.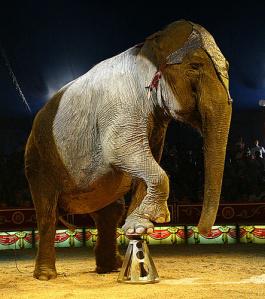 Apart from the harrowing display of mistreatment of circus animals, what other factors are encouraging MPs and a large number of the public to stand strongly for the ban? A publication from the
New Scientist
provides us with an answer. According to research wild animals are unsuited to circus life due to variety of reasons such as lack of space, exercise time and lack of social contact. Findings show that on average wild animals spend 1 to 9 per cent of their time training, with the remaining time being confined in small cages, wagons or other enclosures usually covering a quarter of the area recommended for zoos.
Even if circus proprietors were to put wild animals in larger pens, something that could be an actuality via the Licensing Act, lack of environmental stimuli such as logs to play with (which would not be provided in a circus environment in fear that the animals could break out) provides circus stars with a poorer quality of life than they would have living in their natural habitat. Anyone that has watched the horrid video of Annie the Elephant's ordeal will be aware that performing elephants can be shackled for 12 to 23 hours per day when not on stage, often only being able to move as far as 1 to 2 m. This starkly contrasts with life in the wild where elephants spend 40 to 75 per cent of their time feeding, and the remaining time moving around, covering up to 50km in a day.
It seems thus that not only is there risk of maltreatment at the hands of humans animals are also shown to suffer mentally and physically in a variety of ways in a circus environment. This however should soon all come to an end. Last Thursday saw victory as all members of parliament unanimously voted for the ban on circus animals. Animal defenders, MPs and various members of the public have rejoiced in the outcome of the debate hoping that the ban will be officially announced soon. In 2009 approximately 39 wild animals were held in British circuses, some of which include elephants, tigers, lions, camels, zebras and crocodiles. Whilst this may seem a relatively small number, banning wild animals for the use of circus performance in the UK is a powerful emblem, not only for democracy but for animal welfare.
by Nancy Bukasa