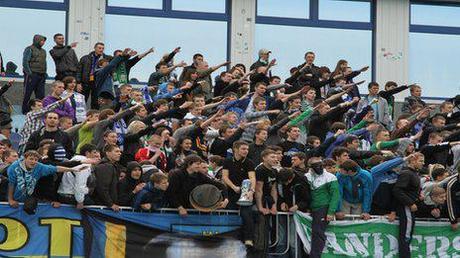 Hardcore football fans at the Metalist stadium in Kharkiv in Ukraine. Photo credit: BBC
The background
Ex-England international footballer Sol Campbell has warned fans to stay away from Euro 2012 because of joint host nations Poland and Ukraine's racist fans. For a TV show which will air tonight, BBC Panorama spent a month filming at matches in both the host nations and witnessed Nazi salutes from the terraces, black players being taunted with monkey chants, rampant anti-Semitism and a vicious assault on a group of Asian students. After watching the footage, ex-Arsenal and Tottenham defender Campbell said he believes Uefa should not have chosen the countries as hosts of such a prestigious event in the first place. "I think that they were wrong, because what they should say is that 'if you want this tournament, you sort your problems out. Until we see a massive improvement … you do not deserve these prestigious tournaments in your country.'" In a statement, Uefa said: "Uefa Euro 2012 brings the spotlight on the host countries and clearly creates an opportunity to address and confront such societal issues. The families of two England players, Theo Walcott and Alex Oxlade-Chamberlain, are reported to be staying away from Euro 2012 for fear of racist attacks.
Campbell had this arresting advice for fans thinking of traveling to Euro 2012: "Stay at home, watch it on TV. Don't even risk it … because you could end up coming back in a coffin."
The tweets
Campbell's advice has kicked up an energetic debate on Twitter where opinion is fiercely divided. Some feel he's right to flag up the societal problems in the eastern European nations while others accuse him of irresponsible scaremongering.
Good on Sol Campbell 4 speaking out it's about time someone voiced their concerns. UEFA have acted irresponsibly. Better 2b safe than sorry!

— Theodora (@Ms_T_P) May 28, 2012
Sol Campbell is absolutely right to warn fans of the dangers at Euro 2012. They have 1980s style 'firms' out there

— Ryan Peter Bushell (@ryanpb) May 28, 2012
I can't comment about Ukraine, but if Sol Campbell's comments are about Poland, I consider them OTT and bordering on a smear.

— this is my england (@thisismyengland) May 28, 2012
Very disappointed by Sol Campbell's comments about Poland/Ukraine. I felt safer walking around Wrocław than I sometimes do around Leicester.

— Ryan Hubbard (@Ryan_Hubbard) May 28, 2012
And where's your proof about the threat of violence in Ukraine Sol Campbell? #uninformed #stupid #scaremongering @jonnygould @DannyLast

— Jeremy Jacobs(@JeremyJacobs) May 28, 2012
Now Sol Campbell is saying don't go to the Euros because of the racists. This is why John Terry should stay at home.

— Darren Fletcher (@thefletcher24) May 28, 2012