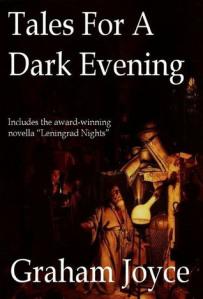 What's Xenos Beach all about?:
The third story in Graham Joyce's collection Tales For A Dark Evening is about a man who is struggling to cope with a failed relationship and decides a sojourn on a remote Greek island may be just the ticket. What he doesn't expect is who exactly he is going to meet…
What did I think?:
Xenos Beach is a fairly spooky little story with excellent pace that I didn't really appreciate until I read it a second time. Our main character who remains nameless is trying to recover from the heartache of a break-up with a woman called Alison. His friend Peter recommended that he should try traveling the world for a while, sleeping with a few different women along the way as his "cure," then our protagonist tells us that he has discovered that Alison is now in a relationship with Pete – the same "friend" Peter who was advising him on how to mend his broken heart? I think so! He decides to take his advice anyway and even has a few dalliances with women of various nationalities along the way until he realises that he needs some time to think alone. The prospect of an ancient Greek island recommended by a rather old and tattered guide book seems perfect and he decides to pay the island a visit.
From the moment that our narrator arrives there, the reader gets a sense that something isn't quite right – there are a variety of tents which look like they have been there for a while, remain unoccupied with no sign of the inhabitants. Then there is the strange Greek orthodox priest that he runs into, the only other person he has seen on the island, who warns him more than once about the danger of the currents for anyone wishing to swim and that he should not attempt it. The following day life suddenly appears on the island in the form of a family who appear to be cooking what looks to be a large slab of offal on a marble slab. We are also told that the temple door of the church has been destroyed and there is no sign of the priest apart from his clothes, lying in disarray all over the floor. Hmmm. Our narrator develops quite a strong attraction to one of the females in the family who makes it clear that she appreciates his attentions and desperately tries to induce him to come swimming with her…
I don't want to say anything further and spoil the story for anyone who hasn't read it yet and I can still feel the after-effects of the second reading lingering in my mind. Graham Joyce is a fantastic writer that really knows how to build up the action while still letting the reader make up their own mind about what was going on. I certainly invented a couple of scenarios in my mind to explain the strange goings-on in Xenos Beach which is definitely the sign of a strong, well executed story.
Would I recommend it?:
But of course!
Star rating (out of 5):

NEXT SHORT STORY:  Chocolate Hearts From The New World by Michel Faber from the collection The Apple: New Crimson Petal Stories