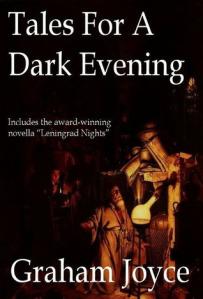 What's Tiger Moth all about?:
The final story in this collection introduces us to Lenny, a thirty-five year old man who is fed up with his job and fed up with his personal situation, living at home with his mother and afraid to finally "cut the apron strings," dreading her reaction.
What did I think?:
I think I've mentioned before that the stories in this collection by Graham Joyce have been a bit hit and miss for me. Some of them, like the excellent Leningrad Nights have completely bowled me over whilst others like Candia, I've been slightly less enamoured with. I am pleased to report however, that Tiger Moth is a return to the writing style that I love from the author and I thoroughly enjoyed reading about Lenny, a lovely character whose life seems yet to begin after being closeted away by an over-protective and emotionally challenging mother.
Lenny is working as a divorce solicitor and has become greatly disillusioned with his profession, the huge amount of cases he is expected to undertake and his useless secretary who lets him know at every available opportunity how "very stressed," she is (whilst hiding a gardening magazine she has been reading on her lap). Things at home are difficult for Lenny too – his mother coddles him as if he were still a child, making his dinner each night, washing and ironing his clothes and making all his big decisions for him (even frightening away potential girlfriends we can imagine!).
Determined to escape his mother's clutches, Lenny decides to go for an interview in Nottingham where he is offered a very tempting deal and re-location package but is at war with himself whether he will be able to have the strength to leave his mother. Their relationship has always been quite fraught, ever since the day his father died and they moved away from the house they had lived in as a family. On the way back from the interview however, he comes across two small boys that reminds him of a time when he met two remarkably similar boys on the day they moved house. He realises that he is being given a second chance to change his life and stand up to his mother once and for all.
I really enjoyed everything about this story. I felt so sorry for the loveable and downtrodden Lenny and was rooting for him until the end hoping that he would have the strength to break the cycle he had got himself into with his mother, who used him at all times as an emotional crutch and was hugely manipulative. I also appreciated the slice of humor that Graham Joyce brought to the story, especially at the beginning where Lenny is trying to deal with a particularly difficult client with a hilarious outcome. This was a really satisfying end to a short story collection that has had both highs and lows for me personally and I look forward to reading more from Graham Joyce.
Would I recommend it?:
Probably!
Star rating (out of 5):

NEXT SHORT STORY: The Shadow Tree by Angela Slatter from the collection Sourdough And Other Stories