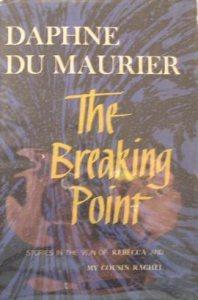 What's The Menace all about?:
The Menace introduces us to Barry Jeans, a hugely popular Hollywood actor who loses some of his life force (quite literally) after years of being someone he is not.
What did I think?:
I'm a huge fan of Daphne du Maurier and am always excited when this collection rolls around again in my Short Stories Challenge as she is yet to disappoint me. This is another fantastic and quirky tale that I didn't really appreciate until I could read it again in a quiet place with no distractions. Our main character is British-born actor Barry Jeans otherwise known as The Menace. In the movie world, we are told, this kind of name is given to an actor with certain qualities. This usually involves a brooding presence, a good profile, most probably some kind of facial scar and little dialog apart from requisite one lined commands like "Scram!." After a little background into how Barry got to his cult status the author describes how he appeals to both women and men:
"In a matter of months his face was more familiar to women all over the world than that of their own husbands. And the husbands did not mind. In a sense, it was a sort of compliment if a girl married a chap at all. It must mean that the chap they married was a super-Barry."
However, Barry has eyes for one woman only – his wife May who he has been with for thirty years and defers all decisions to. May is also a forceful presence in his career, she is there in dressing rooms and on set, cooks all his meals, has him on a tough body maintenance plan and chooses his entourage – all male, without question! It is not until his current venture with Gigantic Enterprises Ltd however that the story really kicks off and things come to a head. In the movie world, the latest craze is for "feelies." This involves the actors having to be wired up to a machine which they power using their own life-force. As Barry is having his test the company are shocked to discover that Barry is only transmitting a Force G which is not sufficient technically for the machine to work. The production staff give Barry's "boys" twenty-four hours to get Barry's force up otherwise they will pull the plug on the venture.
Barry's entourage are terrified, especially for their own jobs but decide the best way to increase his force is to get May out of the way for a night and take Barry to watch the notorious dancers at Poncho Beach and for dinner with a host of beautiful women and artists. Barry is completely bored and disinterested by it all then while making a call to his wife, comes across an old and familiar face. She is Pinkie Brown and he remembers her from when he was seventeen years old, the last time in fact that he felt really alive. He ends up spending the whole evening with her whilst his entourage are going mad trying to find him before the deadline set by the production crew. Barry gets to the set on time a completely changed man but is it enough to increase that vital life force?
To be perfectly honest, I really wasn't sure what to make of this story at first. The author gives us a lot of background information on our character which I thoroughly enjoyed as it gave a glimpse into the life of an intriguing man. Then it started with the life force and the new technology of "feelies" and I was slightly confused! On a second reading however, this story really comes alive. Only then did I appreciate the quirkiness of the style that often characterises a Daphne du Maurier story and began to feel something of a connection to Barry Jeans. Also, I just love the ending when Barry emerges like a butterfly from the cocoon, finally ready to live his life to the fullest and stand up for himself a bit more. The author uses her talent with words to its fullest with a quick wit and depth to describe the change in a man with no visible emotion to one immensely grateful to be alive. I'll leave the last words to Daphne as an example of her humor and a short passage from the story that really tickled me:
"He walked into any place with his woman, and he just held up one finger, and everyone seemed to know what he meant. Waiters fell over themselves, guests already seated were told there wasn't a table, and the Menace sat down with his woman watching him, waved the menu aside, and uttered the one word "Clams."
Would I recommend it?:
But of course!
Star rating (out of 5):

NEXT SHORT STORY: Candia by Graham Joyce from the collection Tales For A Dark Evening