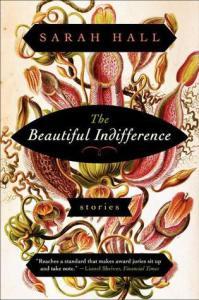 What's She Murdered Mortal He all about?:
After fighting with her boyfriend, a woman goes for a night walk on a remote tropical beach with dark, unexpected consequences.
Sarah Hall has been hailed as "one of the most significant and exciting of Britain's young novelists" (The Guardian). Now, in this collection of seven pieces of short fiction, published in England to phenomenal praise, she is at her best: seven pieces of uniquely talented prose telling stories as wholly absorbing as they are ambitious and accessible.
What did I think?:
After reading quite a few stories in this collection now, I was quite prepared to find this story had a slight edge to it but the author seemed to really pull all the stops and as a result, it made for a fantastic read. Our unnamed narrator is holidaying in South Africa with her boyfriend and so far they've had a wonderful time, although neither of them were prepared for seeing parts of the country torn apart from war. This particular evening however, our narrator asks her boyfriend if there is something the matter (a loaded question if there ever was one) as he appears restless and somewhat distracted. However, she isn't at all prepared for the answer she receives – in that there seems to be something wrong with their relationship. She is obviously devastated and leaves their room immediately to walk for a while through the jungle and onto the beach.
It's quite scary out there in a strange land and on her own but our narrator is determined that she would like time alone to think things through. Before long, she believes she is being followed and turns to see a white object by the waves whom she thinks is her boyfriend, rushing after her to take back his original toxic thoughts and wishes about their relationship. When she has established it is not, she panics and walks a little faster as the beach is completely deserted but then the object gets closer enough for her to see it is a dog. And quite a friendly one luckily enough who allows himself to be petted, forming quite an attachment to our narrator. After going to a bar and sipping some beers our narrator feels calm enough to return to her boyfriend and she has even come to terms with the fact that their relationship may be over and, although it would be hard, she would probably get over it in time. Then she arrives back at the hotel…
That's all I'm saying! Believe me, you really don't want the ending ruined for this one and what an ending it is. Like many Sarah Hall stories in this collection so far, it is very twisty/turny, ending quite abruptly which leaves a lot of things to the reader's own imagination. Furthermore, the author's stunningly beautiful and very descriptive prose makes this story one to be read slowly, savouring each minute little detail. I loved the way that the narrators emotions was reflected in the landscape – for example, at the beginning of the walk when her mental state is slightly more frail, the jungle, waves and wildlife appear to be much more frightening than when she has thought things through a little and is calmer. This is another evocative short read from the jaw-dropping talents of Sarah Hall and I'm very pleased that I've had the chance to experience it.
Would I recommend it?:
But of course!
Star rating (out of 5):

NEXT SHORT STORY: Demons by Rajesh Parameswaran from the collection I Am An Executioner