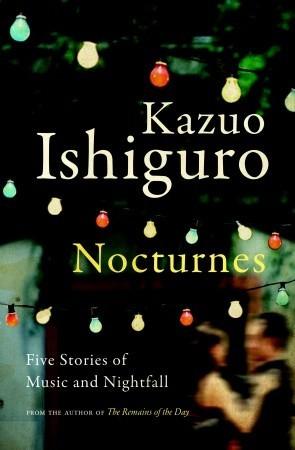 What's Crooner all about?:
In this sublime story cycle, Kazuo Ishiguro explores love, music and the passage of time. This quintet ranges from Italian piazzas to the Malvern Hills, a London flat to the "hush-hush floor" of an exclusive Hollywood hotel. Along the way we meet young dreamers, café musicians and faded stars, all at some moment of reckoning.
Gentle, intimate and witty, Nocturnes is underscored by a haunting theme: the struggle to restoke life's romance, even as relationships flounder and youthful hopes recede.
The first story, Crooner, tells the story of a young musician in Venice who by chance meets a legendary singer, and helps him make music as a surprise for his wife.
What did I think?:
I've only read Never Let Me Go by this author before, which I thoroughly enjoyed, but plan to read The Remains of The Day, his Man Booker winner very soon. Our main character and narrator in this story is Jan or Janeck (to his friends), a Polish musician who earns his crust by helping out various bands in Venice when they need an extra pair of hands. I felt quite sorry for him at the start, as many of the bands whom he assists don't seem in any way grateful, and even advise him not to open his mouth and to try and look Italian. You know, the slicked back hair, the sunglasses…. as the tourists won't like it if they find out he is not a genuine Venetian. I had to laugh when Janeck tells the reader about the kind of music the foreigners want to hear, and how he played "The Godfather" nine times in one night.
One evening when Janeck is playing with a band, he notices a familiar looking face at one of the tables. He realises to his delight that it is Tony Gardner, a celebrity crooner whom his mother used to adore (think Frank Sinatra, Dean Martin) and he reminisces about his childhood when he accidentally scratched one of his mother's records and almost broke her heart in the process. He plucks up the courage to go and talk to him, and in doing so, secures a gig as Tony's guitarist as Tony plans a romantic surprise for his wife. This will involve him being on a gondola with Tony as his background music, as Tony serenades his wife below her hotel room window. Through the short gondola trip however, he ends up learning much more about Tony's marriage and learns the ache involved in following your head rather than your heart.
I did quite enjoy this story, and was quite swept away by the romantic notion of it all. I visited Venice about ten months ago and I could really picture it as I was reading, although I think the author does a great job of setting the scene even if you haven't ever been. So it was good, but it didn't blow me away, looking forward to reading the rest of the stories in this collection to see if this will change.
Would I recommend it?:
Maybe!
Star rating (out of 5):

NEXT SHORT STORY: The Little Green God of Agony by Stephen King from the collection A Book of Horror