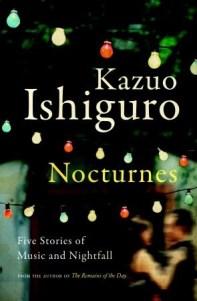 What's Cellists all about?:
In this sublime story cycle, Kazuo Ishiguro explores love, music and the passage of time. This quintet ranges from Italian piazzas to the Malvern Hills, a London flat to the "hush-hush floor" of an exclusive Hollywood hotel. Along the way we meet young dreamers, café musicians and faded stars, all at some moment of reckoning.
In Cellists, we meet a talented young cello player living hand to mouth in Italy until he meets a fellow musician who changes his life forever.
What did I think?:
This is the last short story in Ishiguro's Nocturnes collection and, like the others, focuses mainly on music and characters who are at a turning point in their lives. The story is actually narrated by the member of another band who meet our main character Tibor when he stops to listen to their music. They begin to get to know him and discover that he is hugely talented as a cellist, trained by the finest musicians in the business and with some strong qualifications behind him. However, he just hasn't caught that lucky break, is living on the breadline and is at a bit of a loss of what to do next.
This is where our mysterious American woman comes in. Tibor notices her listening to music in one of the city's squares but doesn't think much more of this until she approaches him directly telling him that she had been present at his recent recital in the San Lorenzo church. Immediately she rubs him up the wrong way by telling him that he has a lot of potential (instead of genius/talent which he was expecting). She informs him that it is important to have that one person there who recognises something in you and is prepared to nurture and lead you on the right path. Tibor is still slightly offended but takes up her offer of help, too curious to let the matter lie.
When he arrives at her hotel room for the first "lesson," she merely tells him to play a few pieces while she sits back to listen. The advice she gives him is both abstract and vague but the funny thing is when he plays the pieces again it seems to have worked! The two continue to work together although Tibor's new friends in the other band become suspicious of her motives and disappointed as Tibor's character appears to change over a short period of time into someone entirely unlikeable. There is a slight twist in this tale which we learn a bit further on and I loved how it shone a whole new light on the situation that Tibor finds himself in.
As a short piece of fiction, I did enjoy this story in general and as always, loved how beautiful the author's writing was. It's not my favourite story in the collection (that prize falls to Malvern Hills, please see my review HERE) but it's still a pleasure to read. The characters are interesting enough yet I would have loved a more in-depth look at the character of Eloise, the American woman that Tibor meets as I found her fascinating. I would recommend this story and indeed the whole collection to any Kazuo Ishiguro fan but it may not be the best example of his amazing work.
Would I recommend it?:
Probably!
Star rating (out of 5):

NEXT SHORT STORY: Roots And All by Brian Hodge from the collection A Book of Horrors