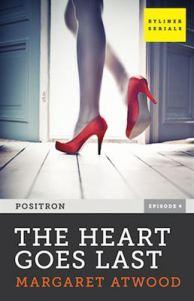 What's it all about?:
The internationally bestselling diva of dystopias is back with a new installment of Positron, her darkly comic Byliner Serial about life in a Big Brother America of the near future.
In the seemingly well-adjusted world of Consilience, it's dawning on the residents that they've thrown away the keys to more than their ragged former lives outside the high walls of their gated community. When they volunteered for this new social experiment, they also gave away the keys to their destinies, even their hearts.
Ask Charmaine and she'll tell you her husband is a dead man. Sure, marriage can be murder, but when Charmaine plunged a deadly hypodermic needle into Stan, because it was part of her job–dispatching undesirables in Positron Prison–Stan survived. His former jailer, a libidinous security chief named Jocelyn, had switched out the death drugs for knockout drugs and drafted him into a plot to undo the increasingly sinister social scheme. In so doing, she promoted him from her sexual plaything to full-blown subversive. The underground is housed in a manufacturing plant of one of Consilience's most successful products: sexbots, made to order.
Love, however, is not made to order, and despite a Darwinian labyrinth of betrayal after betrayal, including wild extramarital encounters and, yes, murder, Stan can't stop thinking about Charmaine. Not only because someone has requested a sexbot replica of her but because, well, she's home in a world without homes. In The Heart Goes Last, one of Atwood's darkest and most deviously entertaining inventions yet, the human heart proves more resilient and true than any mail-order machine.
What did I think?:
Hopefully this isn't going to be too difficult to explain…Margaret Atwood's Positron series is now available as a complete novel called The Heart Goes Last, however the series originally appeared as a number of "episodes," each available separately as an e-book. This is the way I first came across them although now I do feel slightly cheated as the fifth (and I think final?) episode has been taken off the Amazon UK website and I will now only know the ending to the story if I choose to purchase the full length novel which also goes under the name The Heart Goes Last. Did that make any sense? If you haven't read this series before, this shortened episode is definitely not the best place to start, you're probably better off buying the entire novel and reading from the start. Also, I did find myself quite disappointed with this section of the story and feel there's better parts of it I've already reviewed that I can recommend. (Please see my previous posts I'm Starved For You, Choke Collar and Erase Me).
Margaret Atwood chooses to set this story in a strange, dystopian world in a new society known as Positron. Briefly, it involves couples signing up and being fully committed to the programme, given free housing and employment but every alternate month they have to enter the prison system and work for the good of society as an alternate couple pairing takes their places in their house. Sounds good, right? Well, of course, as you might have expected from an Atwood narrative, this society is a hell of a lot darker than first made out. Although you are guaranteed a job and security for life, there are a lot murkier things going on in this world and our main characters, Charmaine and Stan become embroiled in this underworld when they are manipulated into a situation they are not prepared for.
I don't want to say too much more about the plot for fear of spoiling it for anyone who hasn't come across this work before. I do want to say that it's not for the easily offended. It's one of the most sexual things that I've seen Margaret Atwood write and she definitely doesn't hold back with the seedier side of Positron including in this episode, specialised "sexbots" for the pleasure of both men and women. To be perfectly honest, I wasn't as impressed with this episode compared to the others in the series. I loved the snide humor throughout and didn't mind some of the more shocking moments but, by this point in the narrative, I didn't feel like she had enough to say that compelled me in the way I usually feel when reading her novels. If it wasn't for the fact that I am incredibly intrigued to see how it all ends, I might not even bother to finish the story. As it is, I don't think I'll be rushing to complete it, especially if it involves reading an entire novels worth just to get to the same point in the story that I am at the moment.
Would I recommend it?:
Not sure.
Star rating (out of 5):

NEXT SHORT STORY: The White Doe by Rosy Thornton from the collection Sandlands.
Advertisements