It was  public holiday and I was doing window shopping in one of the premium malls in Delhi. I looked into the trim and jazzy wall clock in one of the shops selling Italian clocks and the time indicated that I had almost spent 2 hours of my totally free day in this mall. And that is when I noticed her long neck.
We were meeting after almost 10 years. Last time when we met, it was the farewell in school where we were studying together for last 12 years. She had taken commerce in her senior secondary and had plans to do CA and then some advanced degree in Finance from Edinburgh, UK. I had no worries about my carrier as I already had an offer from London School of Arts for direct admission there with full scholarship based on my exemplary expertise in making wax statues. I was definite that she is none other than Neera and rushed towards her. When it was hardly 30 meters between us, I called her. She turned - and it was Neera. She recognized me instantly and we had a formal handshake. I invited her for a coffee.
She had completed her studies and had joined a British firm in their Asia head office in Delhi. I had started my training school in modern wax arts and had students from almost all the countries. My institute was among top 5 institutes in the world. Being an artist I had been an avid admirer of beauty since childhood but never dared to tell her during school days about how beautiful she was! But now - I decided to take a chance. She had a naughty smile on her face when I asked her if she had a boy friend. After confirming that she didn't have any so far, I proposed here there and then. And wow! she accepted. I gifted her a quite costly and high configuration tablet from a retail store selling multiple brands.
The next day I had a flight to Amsterdam to attend an Arts Exhibition. We decided to meet coming Sunday, which was 4 days away. That was quite appropriate as I was going for 3 days and had a late night return flight. I was very happy and so was she but probably my fate was not. It was too late, later, when I came to know, how foolish I was, to gift her a tablet without considering about its features and her choice about it. Probably neither was she.
From Amsterdam, I called her as soon as I landed there and Neera was quite amused. We spoke for about 30 minutes. Till now she had not opened her gift. I got busy the whole day till late night and the next day was more hectic. Only in the evening, next day, I got some time to call her. And that is when there was a blast. For full two days Neera had a big fight with the tablet. She had 20 bad points about it and to compensate it, no good points. Besides yelling about the the dull and glaring screen to such an extent that she was not even able to identify icons and read the text. The USB port was supporting only 1.0. No front camera and back camera was only 2 megapixels and no battery life. It had no supporting stands or tilting frames and hence she could use only in one position - sitting straight. Constrained life and products always bored her and hence she rejected the tablet and me too... While still talking there were two big blasts - one when she threw tablet on floor with a big bang - declaring that I had no knowledge about her choices; and second - when she declared - no meeting on coming Sunday with me, and supposedly never...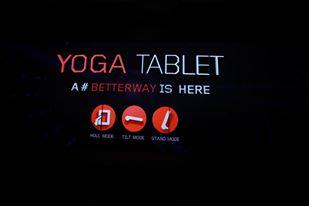 The next 3 days were very depressing. I tried calling Neera but she never picked up the phone. I reached back home early morning on Sunday and the whole day I was thinking how do I get Neera back in my life. That is when one of my close friends who incidentally was a techie too, after listening to my heartbreaking story, told me to visit a nearby Lenovo Store and look for their latest Yoga. The tablet I had in mind this time had to have certain qualities - auto adjustable screen brightness depending on surrounding lights, Excellent 12+ mega pixel camera and 4+ mega pixel front camera. Supporting 3G network, excellent speakers, supporting dual sim, Voice recognition and on top of it different tilting positions and postures possibilities so that Neera could use it while walking, sitting, standing, laying - all most in any way she wants to.
Two more great features that I had in mind were - water proof and extra long battery life even while using Bluetooth, Wi-Fi, 3G, gaming, and other heavy online apps without compromising with performance.
Lenovo for those who do...
While visiting Lenovo Store tomorrow, I am hopeful, I would get what I am dreaming off and that is the only thing to help me get Neera back in my life...