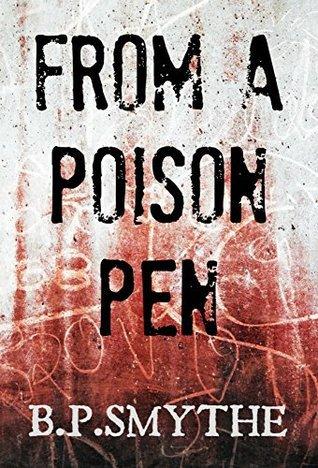 FROM A POISON PEN BY B.P. SMYTHEI was provided with a free copy by the author in exchange for an honest review.
WHAT'S IT'S ABOUT
BLOODHOUND BOOKS (KINDLE), 2016386 PAGES
What happens when a member of the Hitler youth ends up in a concentration camp? How does a beach side cocktail get in the way the way of one woman's scheming? What leads a teenage girl to rain down fire and brimstone?
This collection of dark, humorous and macabre tales explores the disturbing side of human nature.
From Constricted Love
From a Poison Pen is the first book in a trilogy of collected short stories by B.P. Smythe
WHAT I THOUGHT
Stories included:
Constricted Love
The White Room
Mint Imperials
The Letter
Abigail's Closet
Girls Of The BDM
Love Me Do
Bath Night
Lovers Leap
We'll Meet Again
Julian couldn't take his eyes off the pulsating flat stomach. The belly dancer motioned towards him shimmying her hips to the Berber music. The large snake had curled itself around her waist as she held its head in one hand and twirled the ribbons her wrist with the other. He cast a glance at Veronica his new wife. She acknowledged him and smiled back glad he was enjoying himself.
This is my first time reading the author.
I really enjoyed the ten stories in this collection. They are well written, have dark undertones and are quite diverse. My favourites were The White Room, Mint Imperials and Lovers Leap. The standout story in this collection is Girls of the BDM. The stories are written in a simple, engaging language. You can just settle down with this collection in a big comfy chair with a glass of wine and get lost for a couple of hours. Each story takes surprising and unexpected twists which all work really well. I found myself thinking no really and are you joking and I never saw that coming several times. From a Poison Pen contains the type of crime stories I love.