Shor in the city
is a 2011 Dark Comedy, directed by Krishna DK and Raj Nidimoru. It is one of those better films we see every year that doesn't make money or popularity; recent example are
Ship of Theseus, Aankhon Dekhi, Phans gaya re Obama
and some more.
It tells three stories simultaneously, the first story has 3 immature conmen, Ramesh, Tilak  and Mandook,  played by Tusshar Kapoor, Nikhil Dwivedi and Pitobash, they survive by doing cheap thrills and crimes even they have not perfected well.
In another story, we see Abhay, played by Sendhil Ramamurthy, who has relocated to Mumbai recently and has started a new business. Abhay faces extortionists and complains to police about it, to which the corrupt police officials ask for security money.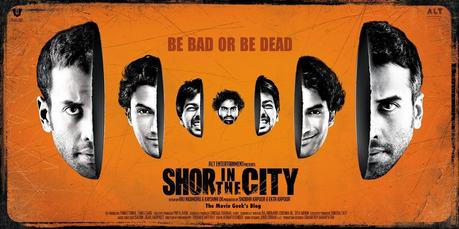 The third plot is about Saavan Murthy, [Sundeep Kishan] trying to make a career in cricket quickly as his girlfriend's parents wants their daughter to get married soon and can't allow a jobless Saavan to marry her.
Although the plots are totally different and have no connection with each other, they are having a common thread, which is the transformation they make. In all the three stories, they indulge in illegitimate activities to set things right in their lives, but as the stories progress, they realize their mistakes and dares to do what is tough but right. 
Tilak leaves the path of crime and decides to settle. Abhay, dares to confront the goons and the corrupt police to end the extortions once and for all. Saavan, realizes that getting into cricket by bribing the selectors is not worth it and disowns the money he got his hands on in a robbery and decides to find a more stable career.
There are good performances by almost everyone and one who shines is certainly Tusshar Kapoor, he is generally disliked and trash but if you give him a good director and a good film, he will shine.
The film is set in Mumbai and tries to showcase the everyday life of the city for people of all class. The events of the stories happened during the 10 days of Ganesh Chaturthi and give the film a feel of the colourful, tantalizing and vibrant city Mumbai is. 
There is good music and no out of the place songs, they just went on with the plot. Shor in the city is an excellent film which both critics and the masses appreciated; our industry should make more such films. 
Movie Geek's Rating:
 ★★★★
Cast:
Tusshar Kapoor, Pitobash, Nikhil Dwivedi, Sendhil Ramamurthy, Sundeep Kishan
Directed by:
Krishna DK, Raj Nidimoru
-------------------------
Author:
Amritt Rukhaiyaar
[This post is a part of the
A to Z Challenge in April 2014
. Let's celebrate blogging.]