Scented Body Moisturisers and the rest of the range
Over the years, I've come to love scented body moisturisers more. These scented beauties keep the skin hydrated, smooth and soft while also enveloping your body with a scent you love. Of course, this means that product has to meet more than one criteria before you purchase it– hydrate, leaves your skin comfortable and smells nice. My most recent fav is from L'Occitane's Whipped Shea Butter range.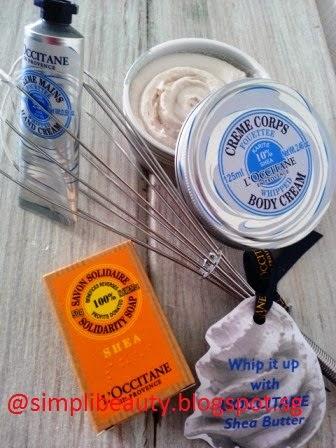 MAIN INGREDIENT WHIPPED SHEA BUTTER
L'OCCITANE has created this incredible, feather-light texture and blended it with an exceptional concentration of shea butter in the new Whipped Shea Butter Bodycare Collection. Nourish your skin with a texture so rich and yet as soft as whipped cream.
How does it work?
Shea butter: Nourishes with vitamins and fatty acids, while it softens and protects
Giving Back To Society
L'Occitane is into blessing the world through its success by contributing financially to international causes such as the visually impaired. To help the visually impared from completely losing their sight, L'Occitane launches a solidarity product each year to contribute 100% of the profits* from the sale of the Apricot Solidarity Soap to  finance NGOs working on eye health projects in developing countries, with the support of the L'OCCITANE Foundation.
*Sales price in store minus taxes, transport and production costs
SHEA BUTTER WHIPPED BODY CREAM, $43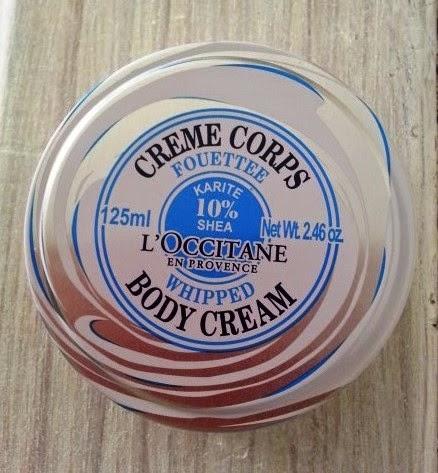 The cream nourishes skin like a balm, except that it has a lighter texture--that of a mousse. Made with 10% skin nourishing shea butter, it quickly hydrates as it is massaged into the skin, leaving skin supple and comfortable.
What makes it great?
Other than shea butter, it also nourishes and protects skin with s
hea butter oil.
How to use?
Apply on clean and dry skin and massage in circular movement. Best to just after towel-drying skin from a shower so that the nutrients from the mousse could penetrate into the softened skin better.
REVIEW:
The mousse cream has the comforting scent like a baby's talcum powder. And it seems to leave a light but matte film on the skin to seal in moisture and protect it. Best for those with dry skin. The comforting scent lingers on for hours.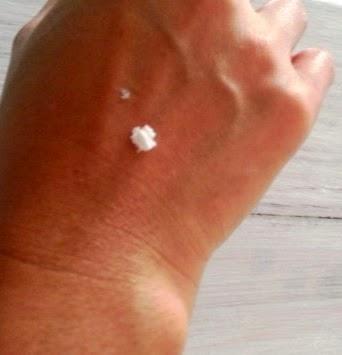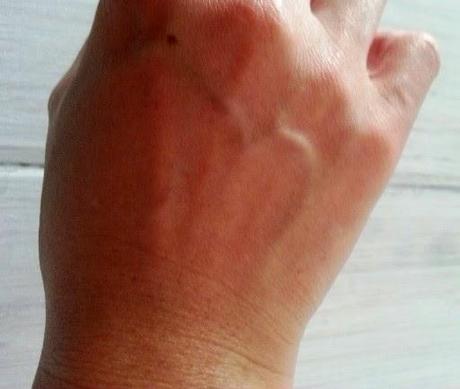 SHEA BUTTER WHIPPED HAND CREAM, $15 (30ml) 

Limited Edition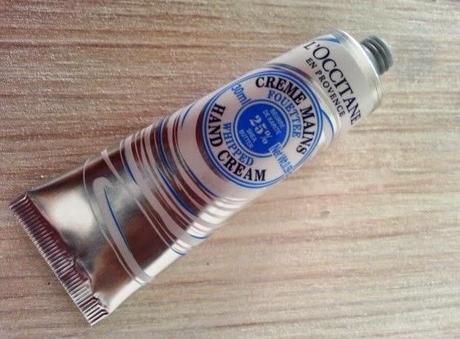 The Shea Whipped Hand Cream has a playful yet smooth texture. Made with a high concentration of shea butter (25%), it helps to nourish, protect and soften the skin.
What makes it great?
Other than shea butter, it also nourishes and protects skin with s
hea butter oil.
How to use?
Use at any time of the day and as often as necessary
1 Use it immediately after washing your hands to maximise benefits.
2 After towel-drying hands, massage a small amount onto the backs and palms of your hands with large circular motions. 2 minutes of gentle massage will allow the cream to penetrate the upper layers of your skin for immediate comfort
3 Take time to work the formula into your fingers, over your knuckles, and on the dry areas between your fingers
4 Massage excess cream onto each finger, from the top of the knuckle down to the ends of your fingertips
How does it work?
Other than shea butter, it also nourishes and protects skin with s
hea butter oil.
REVIEW
The hand cream smells less powdering than the Shea Butter Whipped Hand Cream and has a lighter texture. The hand cream softens both my skin and the hang nails. The dry and white hang nails seem to disappear after my hands are moisturised.
If you are a person into details, you would also notice that the cream that this squeezed out of the tube has a nice ribbing, unlike the other hand creams from L'Occitane. A great plus point, if you have a penchant for things beautiful.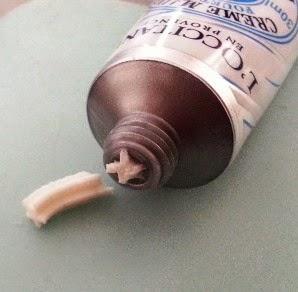 SHEA BUTTER SHEA APRICOT SOLIDARITY SOAP, $5.50 (50g) 
Limited Edition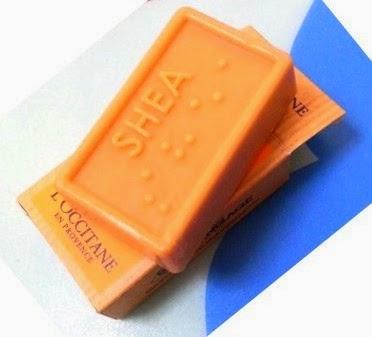 This apricot-scented solidarity soap is made with shea butter to gently cleanse the skin.
How to use?
1 On damp skin, create a soft foam by rubbing the soap between your palms
2 Gently massage the lather onto your skin
3 Rinse
Beauty Tips
Fragrance your clothes the natural and traditional way. Simply leave a bar of soap in your drawers and wardrobes!

Moisturise your hands after washing them to keep them nourished and protected, especially if the water from your tap has a high limestone content.

Use soap to clean your make-up brushes. Wet a cloth and rub some soap onto it, then swipe the brushes back and forth on the cloth until clean. Rinse thoroughly.

For those who enjoy gardening, put several pieces of soap in a stocking, tie a knot, and hang it near your outdoor tap. That way, you'll always have your soap on hand.
REVIEW
I like the fresh apricot scent of this bar soap. It has a subtle tangy touch that refreshes the senses. I used it on driest part of my legs which usually itches after using drying shower gels. The verdict is there is no itch or skin discomfort. My skin was as comfortable as can be even half an hour after shower. It leaves a very subtle lingering scent or almost undetectable scent on the skin.
This range is also great for dry weathers in countries experiencing four seasons and lower humidity. The packaging is light and will not take up much of your luggage allowance.
For more information, please go to
http://sg.loccitane.com/
Please LIKE us on FACEBOOK account, Instagram or Webstagram,Twitter, and Goggle+ (at the bottom of this post) to stay abreast of our blogs and participate in our activities.