I've always been a Sharpie fan and often find their products to be of higher quality than similar items. One of my sons is a competitive swimmer, and they even use Sharpies to write their events for their swim meets on their arms because it doesn't wash out in the pool water! (Rubbing alcohol takes it right off after the meet.) Here are some of the new Sharpie items I received for review from Shoplet:
Premium Pen



The Sharpie Premium Pen has become my new favorite! I love how smoothly it writes, and that the ink is bold but never smudges. The pen is very comfortable in my hands, and the bright silver color is easy to spot among the papers on my desk. I never realized that Sharpie made everyday pens, so I'm thrilled to find that the Premium Pen is perfect for virtually all kinds of writing needs. It's a great pen for business and home writing.
Neon Permanent Markers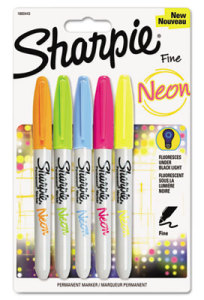 We've always had Sharpie Permanent Markers around the house in the traditional colors: black, blue, and red. But I never realized that they're now available in fun neon colors! They're great for arts and crafts, labeling, and more. The bright colors are bold and really stand out from the page.
Metallic Permanent Marker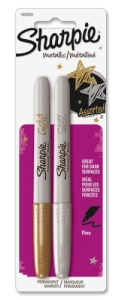 Sharpie Permanent Markers are also available in gold and silver! They're great for writing on dark paper or just adding a cool metallic touch to any project! I had some neighborhood girls decorate this pair of (formerly) white sunglasses with the Sharpie Neon and Metallic Permanent Markers, and this is what they came up with: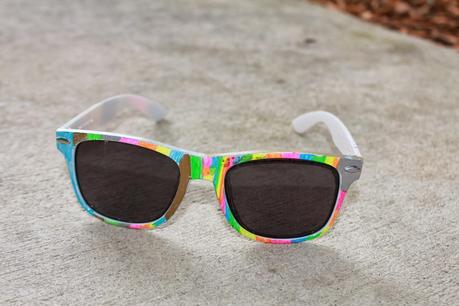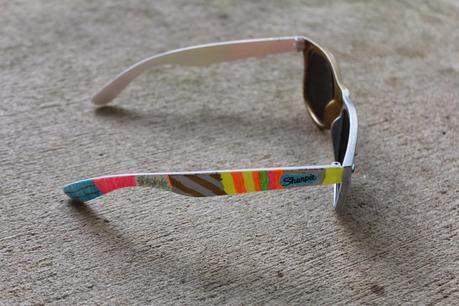 Aren't the glasses great?! I saw one of the girls wearing them while she was out riding her bike. She was so happy that she and her friend had decorated them!
As you can tell, Shoplet carries some terrific writing products like those above from Sharpie! You can also find many other items at Shoplet for your business or home, such as office stationary, promotional shirts and other promotional products. Check them out today!