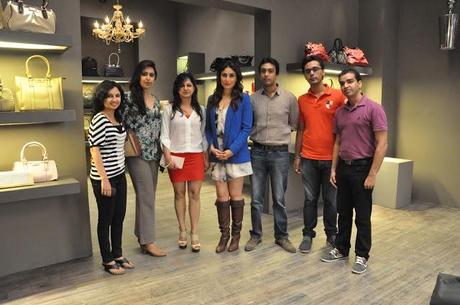 Lavie – the fashion lifestyle brand for the style conscious woman in association with Yebhi.com, the fastest growing online shopping portal in India, brought together a unique opportunity for fans to meet Kareena Kapoor.In a contest held exclusively on Yebhi.com, three lucky winners selected from a plethora of nation-wide entries got a chance to meet the eternal diva and style icon. Nidhi Mittal, Adeesh Jain and Shreya Dhingra met their favorite superstar at Mehboob Studio at an event held recently.
The contest that ran from the 24th September '2012 – 6th October '2012 saw over 400 fans compete for a chance to meet Kareena Kapoor. The winners were blown away by the charisma and grace of thediva and the trio was thrilled to meet their idol and commemorated the same with pictures.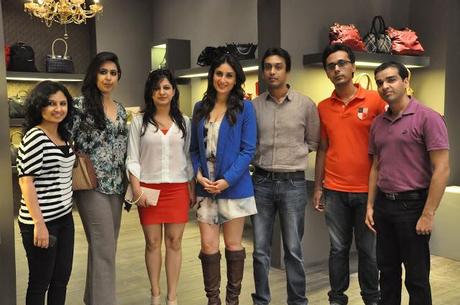 Mr. Manmohan Agarwal, CEO, Big Show Bazaar Pvt. Ltd. (Brand Owner - Yebhi.com)
said, "
Lavie has redefined the style for the next generation and has carved a niche for itself in the modern woman's wardrobe. We are extremely pleased to bring Kareena's fans closer to the cine star and bring her style to their doorstep. The response for the contest was phenomenal and we are keen to bring more of the same for the fans." On this unique partnership, Mr. Sandeep Goenka - Chief Operating Officer – Bagzone Lifestyles Pvt. Ltd. said"Yebhi.com is our premier online partner. We are very happy to bring Lavie to fashionistas across the nation and give them an opportunity to meet their style icon. We chose Yebhi.com for this contest because of their tremendous reach and popularity amongst internet savvy Indians. The fantastic response from the contest and the satisfaction of bringing happiness to these fans has inspired us to create more such contests in the future
."
 My 5 Favorites Lavie Bags -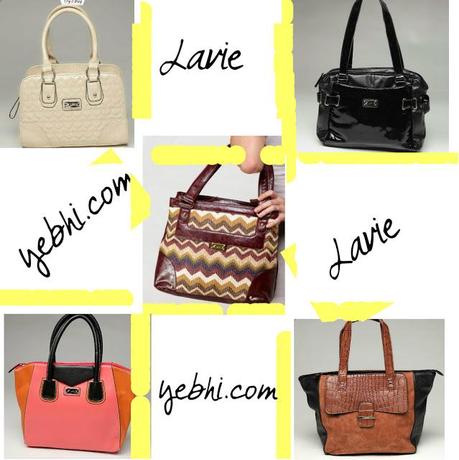 1. Lavie Black and Tan Bag  2. Lavie Colorblock Bag 3. Lavie Aztec Print Bag 4. Lavie Black Patent Leather Bag 5. Lavie White Patent Leather Bag
 My take on Lavie bags - When I looked at Lavie bags, I knew that I have seen these designs somewhere. Probably some high-end bag brand which is very popular among buyers. "Fendi" was my first choice but I didn't trust myself and googled fendi bags - Guess what? I was right!! Lavie bags look very much like Fendi bags. See your self here and here.
Now, your turn -
- Do you like the design of Lavie Bags?
- Do you detest that they seem to be knock-offs of Fendi bags?
- Is there anything else I could have mentioned here to make this most more informative and entertaining?
About Yebhi.com
Yebhi.com, India's fastest growing Home, Lifestyle & Fashion e-retailer, was launched in the year 2009. Yebhi.com is India's first shopping eco-system empowering users to shop, socialize, share and review the widest variety of quality products. The e-retail company offers quality products and latest collections of Shoes, Apparels, Bags, Mobiles, Cameras, Sunglasses, Watches, Home furnishing, Home décor, Home ware, Lingerie, Fragrances with more products and categories getting added each day. Yebhi.com has lead the ecommerce space in innovation and service (introducing 100 days return policy, Try and Buy, 'Asian Retail Leadership award' winning Yebhi Champs, One-click automatic returns, Yebhi Express etc), delivering top domestic and international brands to over 12000 pincodes across the country. The portal has over 2 million happy registered users, with over 10 transactions a minute. 
Yebhi.com is host to 50,00,000 shoppers each month for the greatest array of products from the best brands to satiate their every need. More than 10,000 orders are processed and shipped from the largest 1,00,000 sq ft state of the art fulfilment center to consumers PAN India.
Yebhi.com has a rich mix of quality and variety and possesses a strong association with over 1100 prominent brands like Puma, Reebok, Aiva, 5th Avenue, Rockport, Woodland, Florsheim,  Adidas Benetton, GAS, Flying Machine, Levi's, S.Oliver, ColorplusFastrack, Titan, Timex, Calvino, Guess, Calvin Klein, Tommy Hilfiger, Victoria's Secret, Private Structure, B'witch, Enamor, Bajaj, Philips, Rosebys, Welspun, Karigari among others. The portal aims to expand to over 1,00,000 products to bring more choices, range and value to all its consumers. Yebhi - Better life. A Click Away.
About Lavie
Lavie handbags are made from premium fabrics and its price points allow the fashion conscious consumers a wide range of choices with the absolute best in quality. The brand has a growing presence with currently 50 outlets across leading Departmental stores, Bagzone outlets, Samsonite outlets  and dealers and is available in all major cities throughout India including Delhi, Bombay, Bangalore, Hyderabad, Chennai, Kolkata, Pune and Ahmedabad.
=====================================================
Disclaimer:
For any queries, PR information, website review, store visit and events - please mail me at
[email protected]
. Read about Shopping, Style and Us and to know more, please read my
Disclosure Policy
.
Jiya (Shoppingaholic)