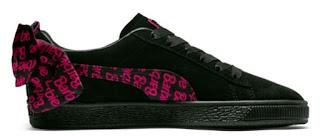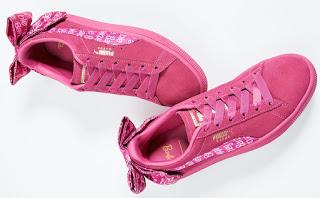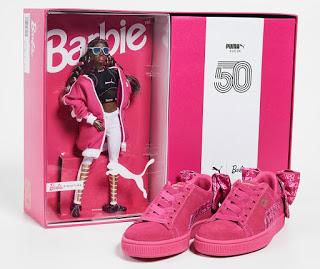 In honor of the Suede's 50th anniversary, PUMA is releasing exclusive Suedes over the course of the year. The newest launch, which hits stores today is the PUMA x Barbie Suede Classic Sneakers. This collaboration brings together two iconic brands that have influenced the fashion industry. The classic sneaker features the iconic suede upper and famous narrow tooling, lace closure for a snug fit, and rubber outsole; but the PUMA x Barbie Suede Classic Sneakers are made extra special with Barbie branding on the lateral PUMA Formstripe and on a chic, oversized bow to the back.
You can find the PUMA x Barbie Suede Classic Sneakers in Black (with no doll) for $100.00 on www.puma.com; while www.shopbop.com has the sneakers in Raspberry Pink/Puma White which comes with a PUMA X Barbie branded doll for $150.00. BUT a warning, these limited edition collection tend to sell out quickly.
Category: PUMA Suede 50, PUMA x Barbie, Shoe Blog, Shoe of the Day, Shoeography, Suede Classic Sneakers, Suede Sneakers, Women's Shoes, Women's Sneakers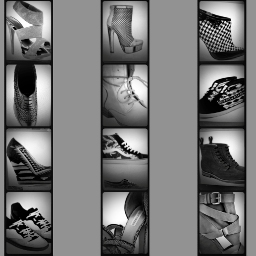 About SHOEOGRAPHY.COM:
Shoeography.com is a daily footwear blog highlighting what's new and what's hot in mens shoes, and women's fashion shoes!