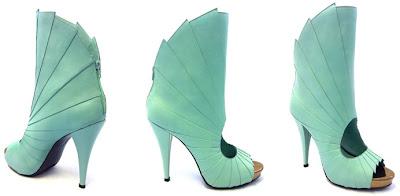 I actually meant to feature these a few weeks ago but got distracted (mostly by attending other previews), so here I am presenting the very drool-worthy Limited Edition

Mattijs x United Nude Fan Shoes

(I actually feel compelled to call them shooties or some combination of shoes, heels and booties because that's what they look like to me). This shoe is all about drama and flair, the shoes are designed based on the inspiration of pleats as Mattijs is known as the Dutch King of pleats.
It may be inspired by pleats but the only image I get is that of a fan dance. And like a fan dance, this show is visually enchanting, graceful and sexy. Only about 120 were made so I'm sure by the time you read this, they will be sold out. But have no fear ladies, re-releases in Navy and Black Kid Suede are coming this fall and are now available for pre-order.