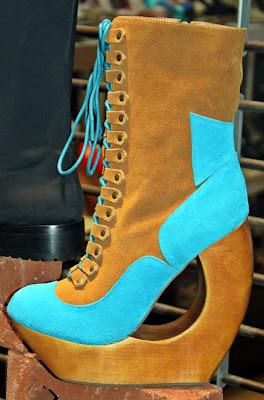 Don't these

Jeffrey Campbell RockRose Boots

stop you dead in your tracks? That's what they did to me while I was passing by a shoe store, actually, I noticed them before I actually passed the store window. I swear they were lit from above by some sort of spotlight beckoning me over.
These breathtaking blue and tan colorblock lace-up platform wedges have a 5 3/4" heel with a 1 12" platform. It features a suede upper, leather lining, elasticized cord lace and a glorious wooden architectural cut-out heel. It actually reminds me of a pair of heels my mom had that I always strutted up and down our house in when I was about 8 yrs old or so. Hers were red and a sandal but the heel was almost exactly like this one (I begged her to save them for me but alas, she forgot and gave them away). I think that just makes me want these even more.