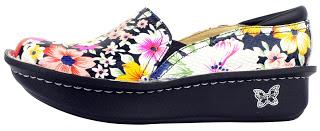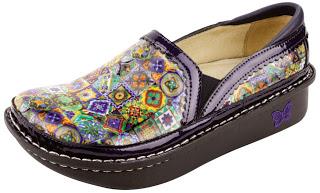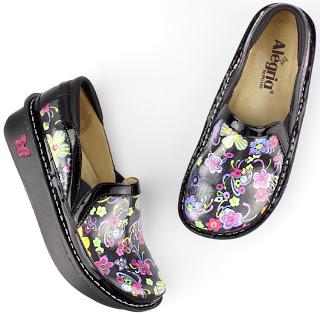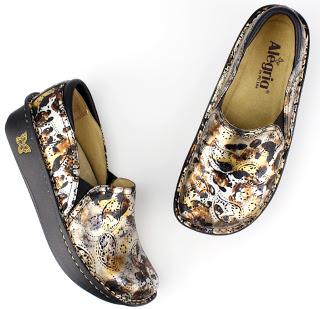 In honor of today being National Nurses Day, we thought we'd raise a...shoe to those who help others with a professional nursing shoe that not only helps Nurses stay comfortably on their feet all day, it's making us non-nurses reach for our wallets. Say hello to the very cool, and very funky Alegria by PG Lite Debra Professional Nurses Shoes. Who says Nurses shoes should only be white? These edgy slip-on shoes boasts a leather upper in standout colors and prints, elastic at the instep for a secure fit, lab rated slip resistant outsole and stain-proof leather coating, a removable cork, memory foam and latex-loaded footbed that forms to the natural contours of your foot, superior arch support, lots of room in the toe box, and a very comfortable 1 3/4" heel with 1 1/4" platform. Whether you're walking the hospital floors or the city streets, every step will be one of comfort and style.
As you can see, the Debra stands out in four (more prints/colors are available) cool prints above: (from first to last) the Happy Snake, Aztec Tile, Aloha, and Rome. The Debra retails for $129.95 each and are available on www.alegriashoes.com (some of the available prints are currently on sale). Why not surprise a nurse in your life with a pair of these cool slip-on shoes, and don't forget to wish them a Happy Nurses Day.
Category: Alegria by PG Lite, Comfortable Shoes, Debra Professional Nursing Shoes, National Nurses Day, Nursing Shoes, Shoe Blog, Shoe of the Day, Shoeography, Shoes for Nurses, Slip-Ons, Women's Shoes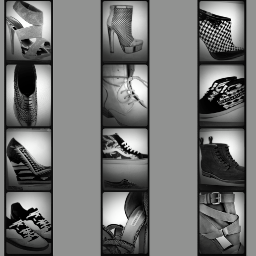 About SHOEOGRAPHY.COM:
Shoeography.com is a daily footwear blog highlighting what's new and what's hot in mens shoes, and women's fashion shoes!