Ugh.  Just ugh.  First, I am not a big fan of musicals.  Sorry, but they aren't my bag and the ones I do like are few and far between.  Second, this is about the single most boooooooring and uninspiring musical I have ever seen.  You know what I would rather watch 4 seasons of American Idol than watch this mall food court musical.  I was just more annoyed than enraged when watching From Justin To Kelly.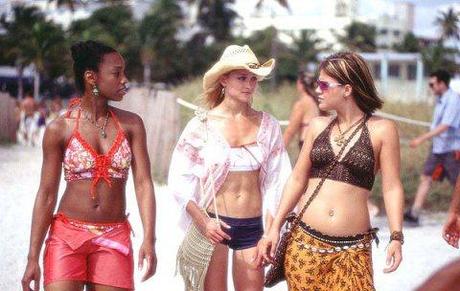 From the producer and writer of Spice World and the director of She's All That comes this musical comedy inspired by and featuring the stars of Fox's hit reality show American Idol. Starring the winner and runner-up of the show's first season, Kelly Clarkson and Justin Guarini, as slightly fictionalized versions of themselves, From Justin to Kelly attempts to recreate the atmosphere of the fun-loving beach musicals of the 1960s. When Kelly (Clarkson) and Justin (Guarini) embark on a vacation in search of some fun in the sun with their respective groups of friends, the two meet and fall for each other at first sight. Unfortunately, a series of comedic mishaps and hijinks gets in the way of them getting together. Several song-and-dance numbers ensue. In addition to Clarkson and Guarini, the film stars Greg Siff, Brian Dietzen, and Katherine Bailess. ~ Matthew Tobey, Rovi
Just reading that synopsis is incredibly uninspiring to the point where your eyes roll all the way into the back of your head.  I mean I get that they wanted to capture the spirit of the 60s beach blanket musicals, but the main actors just won a musical contest, not an acting contest.  The acting nugget is apparent when there isn't even any chemistry at all in this movie, just to people saying their lines as if they are being head their emotions and dialog through an ear piece.  Shit Twilight might have slightly better acting.  They try and hide it super bubbly personalities and comedic hijinks that is supposed to distract us.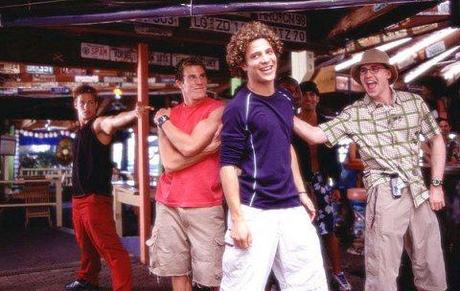 Oh the hijinks.  This is the mall version of musicals, like the Kidz Bop edition of regular musical movies.  The content is so squeaky clean that it makes Grease seem edgy and gritty.  The content is distilled down to sugary  sweet shit that the production company was hoping to still mold the movie into a mass product.  I understand that this was made to capitalize off the success of the first season of American Idol.  That is an easy decision to make in terms of striking while the iron is hot.  From Justin to Kelly is just sickeningly mundane and boring that even the tried and true teen comedy romp is pussified and unfunny.  Shit, those National Lampoon teen dvd movies have more going for it than this high production movie.
I find myself trying to grasp for something tangible in terms of pinpointing my disdain for this movie.  But everything about this is just so dull that I can't even find the energy to snipe at it more.  I watched this and was just bored.  I could have found more excitement and enjoyment from watching a cat sleep than watching this musical comedy movie.  I guess if you really wanted to see them sing, I would just watch reruns of their American Idol appearances.  Shit at least they are showing some energy in those episodes, here they just smile as much as humanly possible, "act" and sing.  A robot would have much better success at this movie than they did.
Gah I just couldn't stand the movie.  It isn't hate, just an extreme disappointment and dullness is all I felt.  Kind of like when your parents catch you doing some wrong and they say that they aren't angry, just disappointed.  That is what watching this movie feels like, like you let down your parents in the biggest way possible.