It's the movie that no one was ever asking for.  What the hell is it with black actors having to dress up in fat suits to portray black women?  I mean you have the Madea franchise (ugh) and then Eddie Murphy playing in a fat suit just because they pay him, I am starting to believe that the parody trailer in Tropic Thunder "The Fatties" is something that might come true.  This movie though, I don't know what to say other than it is right up with Chinese Water Torture in terms of enjoyment.  In fact, I would have rather been strapped to a chair and endured the entire makeup process in 100 degree heat than watch this or any other Big Momma movie ever again.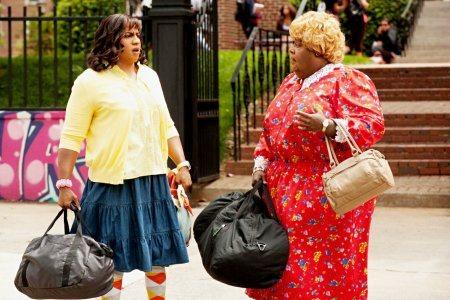 Martin Lawrence reprises the role of FBI agent Malcolm Turner — aka, undercover grandma Big Momma — in this installment in the Big Momma's House franchise, Big Mommas: Like Father, Like Son. Malcolm's latest assignment teams him up with his teenage stepson, Trent (Brandon T. Jackson), who unwittingly makes himself a target when he witnesses a murder. In order to keep Trent out of harm's way and solve the case behind the killing that Trent saw, the two have no choice but to go undercover at an all-girls performing arts school, with Malcolm posing as the titular rotund old lady, Big Momma, and Trent dressing up as a heavy female student named Charmaine. ~ Jason Buchanan, Rovi
Now I am not saying anything overtly insensitive, but you have to look at this movie franchise, the Madea empire, and whatever Murphy churns out in the fat suit category and you have to think "this doesn't help out African Americans in film".  I mean you have numerous films that utilize this "comedic" set up and every single one of them are just panned as being demeaning, enhancing stereotypes, unfunny and just offensive.  That's what I think when I have watched these movies.  Nothing about this series is funny, it retreads over the same jokes and is generally terrible as movies and comedies go.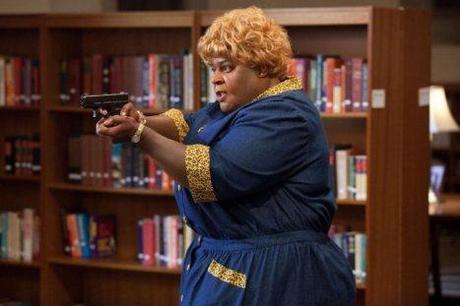 This is just a one note gag that somehow has been stretched into multiple movies folks.  The whole fat suit, undercover operative thing is pretty much fucked out with this series after the first one.  At this point it's identity theft that Lawrence is committing by being the fake big momma.  This one note gag turns into a note running joke and then it turns into something else that is even funny.  Hey big momma crashes through stuff, she dances like a fiend, she is "oh no you didn't" sort of stereotype and of course someone has to fall in love with big momma cause why the fuck not.  Nothing, absolutely nothing is good about this movie.  I would rather watch a gastric bypass surgery than suffer through this unfunny movie.  Oh and what's funnier than one fat suited character?  TWO fat suited characters!  That means double the amount of shit we have to sit through.
I don't even want to expend any energy in talking about the plot or story or acting.  I am just angry that I watched this cause it shows that there is nothing original coming out of Hollywood and they just fuck any good premises to death by beating that horse until there is bone left.  Big Mommas is just awful and a sad comedic franchise that just won't die.  Martin Lawrence just needs to stop and try something else, anything at all, instead of suiting up in the fat suit for one last time of phoning it in.