It's actually strange that I'm posting this review first because this is part of a batch of sponsored items that arrived for me from StrawberryNET.  Normally I'd present the group arrival first before individually reviewing the items, but this foundation was just so beautiful in finish and so perfect for me I just had to put it up to show you already.  StrawberryNET contacted me then sent me on a sponsored $50.00 "shopping spree" on their site (I took forever in choosing) as part and parcel of a thank you for featuring them in the past and also requested continued support in blogging bout them once I received the items I chose, more on that when I blog bout the group.  This Shiseido Sun Protection foundation is my most prized "purchase" from the loot that StrawberryNET paid for.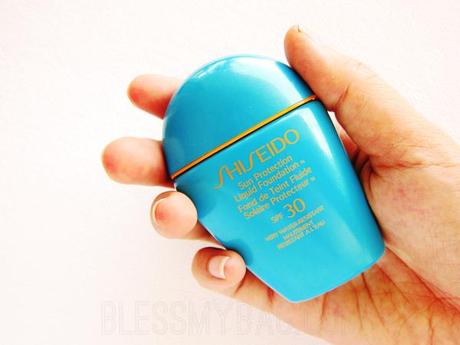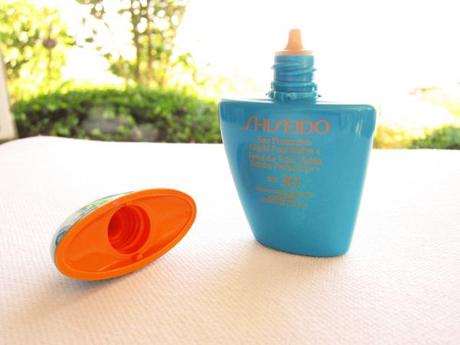 ON THE BOX: "Resists perspiration, water, and oil to maintain a soft matte look on skin, even during outdoor activities.  Glides on smoothly and evenly; feels non-sticky and feather-light." I'm telling you now, that sweet stuff written on the box turned out to be true, for me at least.

Thin, runny bases with excellent medium to full coverage are a booming revolution in the makeup world.  You can politely ask this one to stand beside the likes of Chanel Vitalumiere Aqua and Estee Lauder's New Invisible Fluid foundation (which Lisa Eldridge demonstrated in this video), those foundations both come in shaker bottles as well with proper nozzles instead of pumps for the runny formula.   It's practically flawless and to my delight, and with a little help from viewing another blog Delicate Hummingbird  the foundation shade I chose online SP40 matched me perfectly (author has the same skin color as I do but sadly has stopped blogging as of Jan, dunno why *depressed*) normally with MAC I'm an NC30-35.  Read more for the full post to see photos of me wearing this lovely foundation.
I first heard about this foundation from Fleur de Force, the young YouTube Makeup Guru from the UK when she talked about her February favorites then her foundation routine with this product.  Although I knew this range existed I was reminded that they had a foundation line because of her video review about it.  She claims that this for now has replaced her Chanel Vitalumiere Aqua.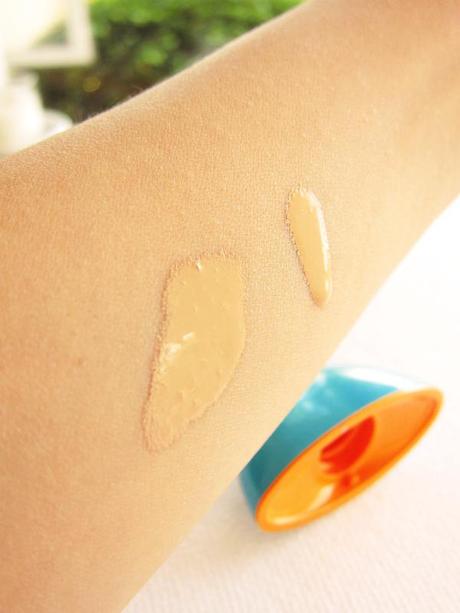 An anti-aging foundation that protects skin against the UV rays causing photo aging with an excellent UVA/UVB protection effect
Formulated with Rose Apple Leaf extract to deliver an excellent anti-oxidant effect and help prevent UV-caused DNA damage
Transfer resistant, Very Water Resistant, Non-Comedogenic, Dermatologist Tested
Specially formulated by Shiseido Laboratories, Japan, Made in the U.S.A., Bottle container made in Japan.
Apparently there are 2 slightly different versions of the Sun Protection liquid foundation out on the market,  the U.S. manufactured one like this carries an SPF of 30 and the one here on the Shiseido Singapore site is SPF 43, I don't know why that is but I'm pretty sure there's a next-to-none difference in performance.  The texture is runny but not annoyingly so because a nozzle applicator allows you to apply little by little onto your hand without making a mess.  It's considered to be an "Anti-aging" foundation only because of the proper UVA/UVB protection it gives and a lovely cocktail of natural anti-oxidants ties the formula together.  I actually own the sunscreen from the same range and have had it for like over a year now before getting the foundation.  The sunscreen is MY FAVORITE HIGH END GIRLY SUNSCREEN, plus one thing I must say about Shiseido products, whatever it might be, makeup or skincare, the products almost ALWAYS improve skin, in my experience anyway.  The Shiseido Ultimate Sun Protection lotion SPF60 actually improved my skin last summer.  After wearing it for the whole day at the beach (I'd reapply once in the afternoon) I'd wake up the next day to the softest skin on my face ever and even on my arms and shins where I'd applied the lotion, and to think that was just the sunscreen.  The range also includes a compact powder foundation (actually the perfect partner for the liquid foundation) and would you believe there's even a stick foundation which unfortunately looks like a deodorant, but I'm sure it would be great for outdoor shoots (if there happened to be no "flashback" effect from the SPF)!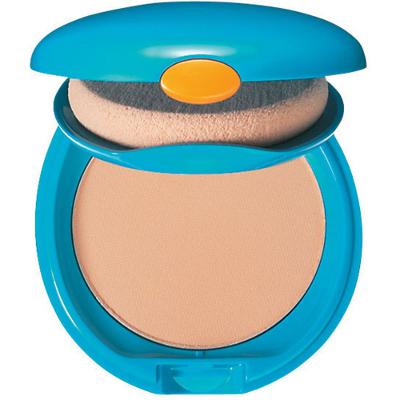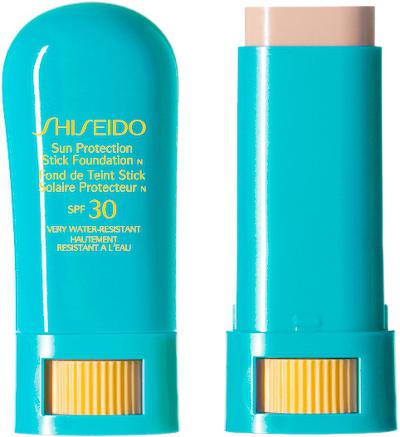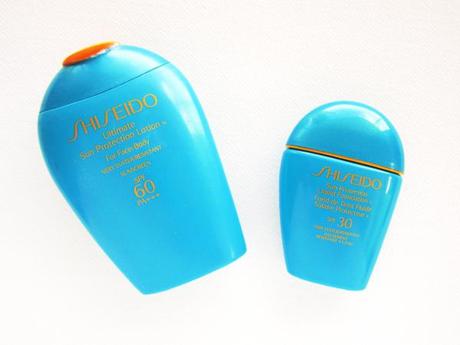 Shiseido Ultimate Sun Protection Lotion US$39.00, Shiseido Sun Protection Foundation US$34.00
The finish of the Shiseido Sun Protection Liquid foundation isn't matte, it's ALMOST matte which is what I love about this, that semi-something is something super.  I wouldn't want to be caught dead matte (that actually makes you look more dehydrated in the summer) but ALMOST matte I believe is the lovely line drawn between dewy and dull…in short it looks FRESH.  The foundation has that lovely FRESH finish even without powder, which I think would be perfect at the beach because you can actually swim with this foundation on.  For girls with oilier skin this will control oil to a certain degree because it's a transfer resistant formula but I still suggest you keep blotting sheets or pressed powder on hand for the T-zone.  The color SP40 goes on a bit too light at first for me but then oxidizes a TEENSY WEENSY bit (not drastically), as in like, a fraction, then becomes perfect on me, as you can see.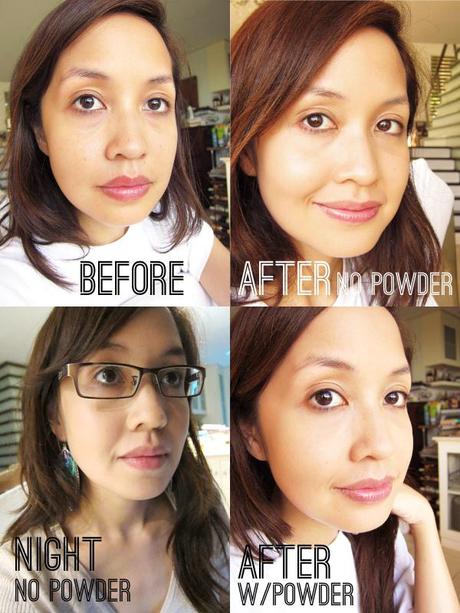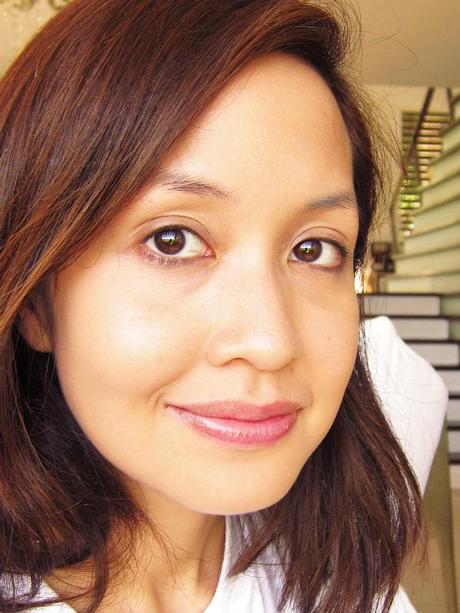 Above is the shot without powder on a very warm day, a little translucent powder can help.  As you can see in the collage the foundation looks even more beautiful when evening comes and people begin to notice you have a glow that isn't too made up, you just obviously look better.  The shots below are the finish of this foundation when loosely powdered with a little Laura Mercier Translucent Setting Powder.  It practically looks like a better version of my own skin.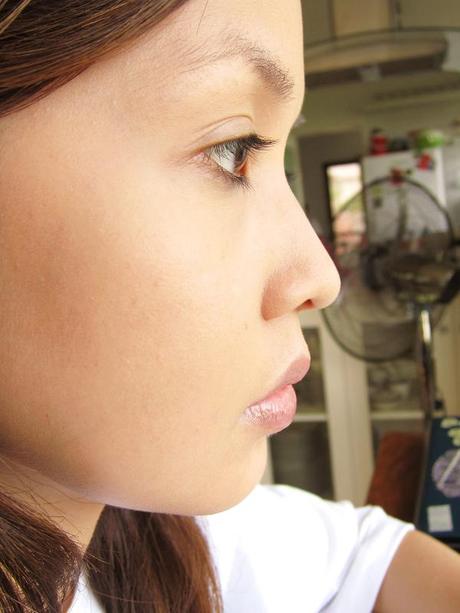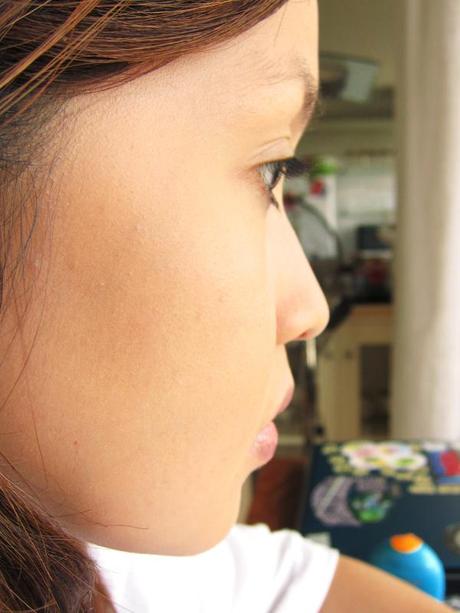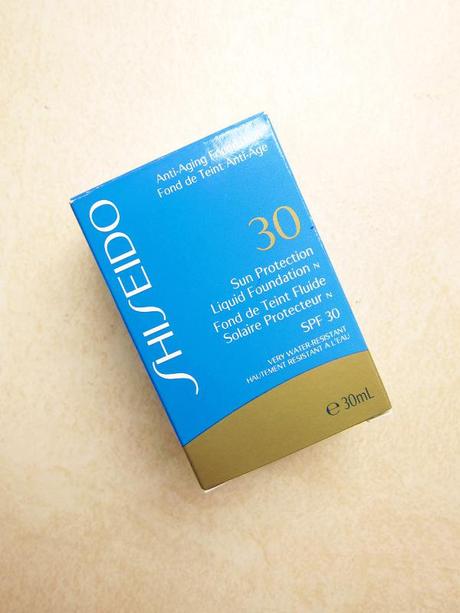 This is my new, dare I say, Holy Grail non-pro foundation.  I've wanted to stop digging like a trespasser into my pro makeup kit to put on a great face on myself for awhile now and now I've found the base that will hopefully keep me away from my studio creams that are meant for work.  I want to be a normal girl with a lovely bottle of consumer foundation in my bag on days when I'm not carrying the "Makeup Artist" banner over my head.  This turquoise colored Shiseido range is the summer specific "Sun Protection" collection that I think is beautifully formulated and overlooked.  I think the reason some people don't take serious notice of this range as much as other makeup ranges is because of the overpowering hue of turquoise, it's lovely but there is an element of tackiness because of the packaging being brightly colored.  I love it because it's different and I liked secretly knowing the range was great, but now I've spilled the beans just for you guys, hehe.  The price of the Shiseido Sun Protection foundation according to Makeup Alley is about US$35.00  on the Shiseido US website, that's about Php1500.00.  I got it practically for free because of StrawberryNET's sponsorship and it was hugely discounted when I fit it into the $50 budget they gave me (which I chose to personally exceed by about $20 to fit in 1 more item) because of an ongoing sale at the time and the loyalty discount percentage I'd already accumulated.  It's available here at StrawberryNET currently for about $5 more because it's not on sale this time.  I'm not aware of how much it is from local counters or if it is available locally.  Here is a video of Fleur's current foundation routineusing her own bottle of this foundation.