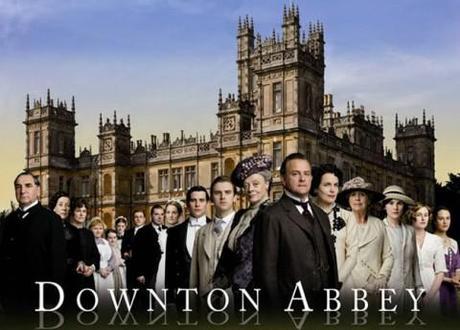 The cast of Downton Abbey: Soon to be ruffled. Publicity still.
The Americans are coming! To Downton Abbey, at any rate, as news breaks that 77-year-old actress Shirley MacLaine will be joining the cast of Julian Fellowes' hit television show about the lives and loves of an aristocratic family, the Granthams, and its servants, for its third season, which will elegantly come onto the airwaves in Britain this autumn. MacLaine will play Martha Levinson, the mother of American Lady Grantham. The show is currently airing its second season across the pond.
MacLaine, reported the BBC, has been in over 50 films, and even bagged an Oscar, for Terms of Endearment in 1984. Her first role was in Alfred Hitchcock's The Trouble With Harry.  She'll be joining a series that has no shortage of plaudits – Downton Abbey has recently been given a Golden Globe, for best mini-series. The casting no doubt has a lot to do with the show's continuing American success – ratings are up for the second series by nearly 30 percent in the US. She will also provide a foil for Maggie Smith, whose Dowager Countess has consistently given some of the best lines. The Press Association called MacLaine "Hollywood royalty." She's Warren Beatty's sister, no less, and has also written "several bestsellers."
"Julian [Fellowes] has written another brilliant character in Martha Levinson, who will be a wonderful combatant for Maggie Smith's Dowager Countess and we are excited at the prospect of Shirley MacLaine playing her," said Gareth Neame, Managing Director of Carnival Films, the producers of Downton Abbey, quoted on the LA Times.
 Get ready to rumble. Viewers are rubbing their gloved hands with glee. The Los Angeles Times said it was a "huge coup" for the British show. Everyone's looking forward to the sparring between Smith and MacLaine: "They'll be so catty, so cunning, so subtly yet overtly evil to one another that this is shaping up to be the best T.V. rivalry since Seinfeld and Newman. The Countess will detest Levinson's American habits, Levinson will despise the Countess' old-fashioned rules; Mary, Edith, and Sybil will be caught in the middle of their warring grandmothers, not sure which side to choose, eating their feelings in the servant quarters with the likes of Daisy and Anna … it's going to be brilliant," gushed The Stir.
Social immobility. The reason Downton Abbey's so successful in the US, said Joanna Weiss on The Boston Globe, is that it makes Americans feel better about their social mobility. "Sure, we've got our 1 percent … but we're not all consigned to being masters and servants forever."
Perfect casting. At least MacLaine will be able to speak in her own accent, said Lisa de Moraes on The Washington Post, a "flat mid-Atlantic" effort which she used to worse effect in a film about Coco Chanel. She also looked forward to the sparring between MacLaine and Maggie Smith's character, whom she calls, erroneously, "Lady Violet." Periscope would, wearily, like to note that Maggie Smith's character is The Dowager Countess of Grantham, known as Lady Grantham. Only the Earl's daughters are "Lady Firstname", because their titles are courtesy titles. Get it right, it's not that hard!