We travel to Shirakawa-go Unesco Village in Spring leaving early morning (07:00ish) from the city of Kanazawa. We travel southwest on our JR passes via Toyama to Takayama, which is the starting point for travel to Shirakawa-go Unesco Village, a well known unesco site famous for triangular looking houses among other things. Admittedly this journey did begin on a slight hangover following Suntory Highballs and Chu-Hi mixes from the previous night. This is quickly cured on the journey as we follow winding tracks alongside pristine, aquamarine rivers, through forests and mountain valleys. These parts of Japan are immensely beautiful. We arrive to Takayama Station still carrying our luggage (we would forward to Tokyo that night) so we stuff them into one of the train station locker (500 Yen for a big locker) before buying tickets and boarding a bus to Shirakawa-go (4,420 round trip).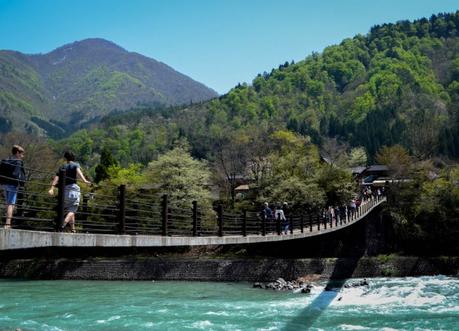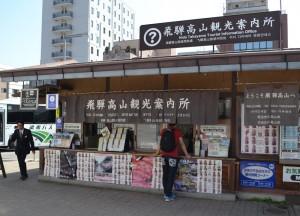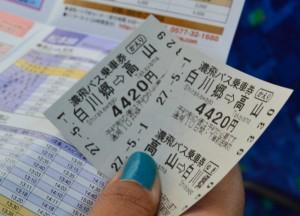 ---
Shangri-La
At Shirakawa-go Unesco Village we arrive to the front car parks where there are a number of museums and tourist attraction but we do skip past them as we follow the rope-bridge which crosses, over rapids, to find ourselves in a sanctuary of calm. A Shangri-La of sorts. The Shirakawa-go Unesco Village is sincerely beautiful, and no photo will ever do it justice. Surrounding the perimeters are forests rich in birds and wildlife. A woodpecker pecks, an eagle circles, and swallows dart between all-colours of trees and thatched rooftops of the traditional gasshō housing. Tweets and twitters, leaves and blossoms, the smell of freshly cut pine. Gentle spring waters meander through from the melting snows on the hills above. Carp in the streams, frogspawn in the lakes, scarecrows. I finally realize the Japanese obsession for spring.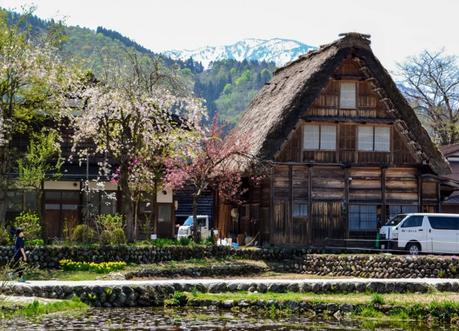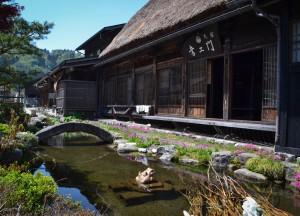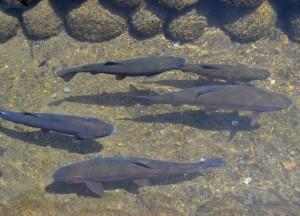 ---
Shirakawa-go Unesco Village in Spring
Koi Nobori (fish) flags flutter high above to signal the coming of Golden Week, and more importantly children's day, which will begin the following day. It is the beginning of Spring and Shirakawa-go Unesco Village has just woken from its harsh winter covered in snow. This is normal here and the the thick thatched cottage roofs are designed to withstand and shed the weight of the region's heavy snowfalls in winter. But what makes the Shirakawa-go Unesco Village even more adorable is that it's very much still inhabited. While it is somewhat touristy, it also feels very local with family businesses catering to the regular influx of tourists. Cute cafes, local handicrafts, whipped matcha ice-cream. Doing the rounds is a box shaped co-op delivery van with Parappa-the-Rapper-esque caricatures imprinted on the side. The entire area is simple to get around as well and, given we have plenty of time before forwarding to Tokyo, we potter up a pine tree path on the far perimeter to find a car park with views over the tops of the Shirakawa-go Unesco Village. There are also hotels in the Shirakawago area and given the opportunity again we would definitely stay the night.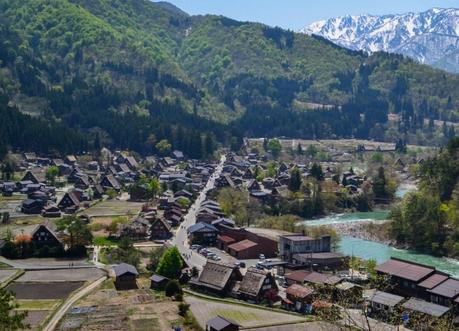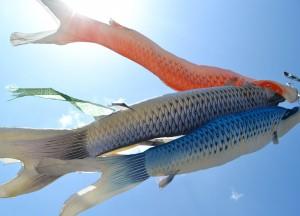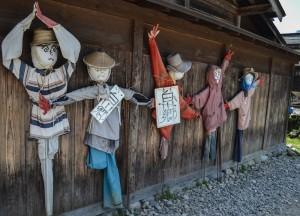 ---
Leaving Shirakawa-go Unesco Village
With a lengthy journey ahead to Tokyo we stop in at a local cafe opposite Takayama station. At first glance the cafe is nothing out of the ordinary, but I am quickly loving their menu of local and regional sakes, shochus, beers, fruit liquors, an entire drinks menu of locally produced Hida Takayama liquors. Of course I'd normally be all over these but, having just killed my highball hangover, I am forced only to indulge in the food. "Enjoy the traditional tastes of Hida." I start with kei-chan a local specialty of the Hida and Okumino region. This is hands-on eating, similar to Yakiniku, where a plate of marinated chicken and vegetables are served to the table, alongside a portable barbecue skillet. I am then to cook it. On the side is a soy sauce side broth (miso also optional) and together they are incredibly oishi! Next, because a chicken barbecue to myself isn't enough, I sample the Hida beef sushi, a lightly cooked beef sushi with amazing texture and flavor. I quickly feel guilty for the smotherings of wasabi, which in Japan would probably be like eating marbled wagyu steaks with tomato ketchup. Anyway, Fanfan goes with the standard ramen which she now claims to be the best ramen of our 2 weeks in Japan (I can't confirm as she refused to let me try). For desserts we explore vending machine Cornettos, before retrieving bags from the station lockers, and hop back on the trains.