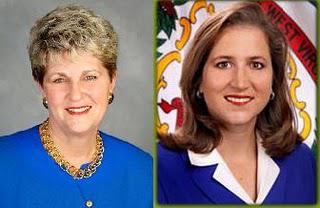 West Virginia has an extremely interesting gubernatorial election this year, as two of the front-runners in the primaries are women: Natalie Tennant and Betty Ireland.
Natalie Tennant, a 43-year-old native West Virginian, is no stranger to making gender-based precedents. In 1990, she became the first woman to be the West Virginia University mascot. University officials were originally leery of the concept, even telling her to go back to the kitchen, but she showed them that men and women can wear a mountaineer costume the same way. (I'm sorry, that's the stupidest thing I've ever heard women stopped from doing. What, having testosterone somehow makes a person better at getting school spirit at sports games?)
After college, she went into news journalism, anchoring local news stations. She actually met her husband, Erik Wells, also currently a politician, while co-anchoring a morning show. (I think that's really cute, so I just had to mention it. Sorry. Back to important stuff.)
Tennant became the secretary of state of West Virginia in 2008, the first Democratic woman to do so. As secretary of state, she modernized the system, made the voting process easier for those in America and for military personnel overseas, and increased government accessibility through social networking sites like Twitter, Facebook, and live YouTube streams. As a working parent and small business owner, she has made West Virginian business and economy flourish.
She has to get past the Democratic primary before she can actually run for governor, however. She's up against five men, including the incumbent governor Earl Ray Tomblin. (Tomblin took over for Joe Manchin, who became United States Senator when Robert Byrd died.) Public Policy Polling determined that Tomblin and Tennant have almost equal support, with 25% backing Tomblin and 24% backing Tennant.
Among the Republicans, there is also a woman running: Betty Ireland. Originally a West Virginia public school teacher, she went into business. Successful in the business world, she eventually owned Retirement Systems and Services, a pension administration and consulting firm in West Virginia, for six years. For the next six, she served as vice president and head of the pension division in the Trust Department of the Charleston National Bank of Commerce.
She became the first woman, Democratic or Republican, secretary of state in West Virginia in 2005, holding the position until 2009 (when Tennant took over). When she ran in 2004, she beat Democrat Ken Hechler, a popular politician who had previously held the secretary of state position for 16 years. (Tennant had lost the primary to him by approximately 1,000 votes.) As the first woman secretary of state, she was also the first woman to enter the executive branch of West Virginia government.
It looks like Ireland will probably win the Republican primary, as Public Policy Polling says she has 46% of the people's support, compared to her closest opponent's 11%. (31% are undecided, however.) It'll be interesting if both Ireland and Tennant win their primaries, since there has never been a female governor of West Virginia before, let alone two female candidates running. Public Policy Polling says that with Tennant and Ireland against each other, 43% support Tennant and 32% support Ireland. That does leave 26% of the West Virginia public undecided, however.
I look forward to see how both Natalie Tennant and Betty Ireland do in the primaries and actual gubernatorial election. Either way it'll make for an interesting race to watch.