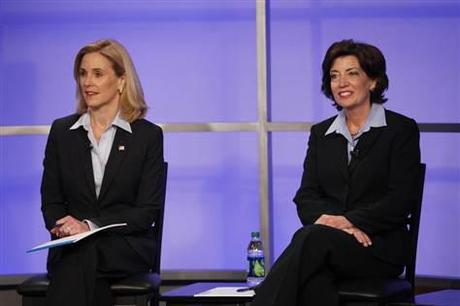 I recently wrote about Natalie Tennant and Betty Ireland, the two women who were running for their parties' primary elections for West Virginia governor. While neither one won their primaries (and unfortunately, both gubernatorial candidates are pro-life), there are more women running for political office. In New York's 26th congressional district, two women are running for the recently-opened seat: Kathy Hochul and Jane Corwin.
Kathy Hochul, a Democrat, is currently the County Clerk of Erie County, a position she's held since 2007. She was born in Erie County and never went far from home, attending Syracuse University for her BA and receiving her JD from Catholic University. She has made use of her law degree, serving as legal counsel for Senator Patrick Moynihan and Congressperson John LaFalce. Her husband is also in the legal profession, as he is the United States Attorney for the Western District of New York.
She started off her public office career as a member of the Hamburg Town Board in 1994, when she helped remove local tolls. In 2003 she was appointed as the Deputy Clerk, and became County Clerk in 2007. As the highest-ranking female official in the county, she has done her best to help small businesses, among other things. Hochul believes that the federal budget must be cut, but not through Medicare as a voucher system; wants to raise taxes for those who make more than $500,000; and opposes free trade agreements like NAFTA, since they have negatively impacted US wages.
Hochul is also pro-choice. In addition, she co-created the Kathleen Mary House, a transitional house for women and children who need short-term housing after escaping situations of domestic abuse. The Kathleen Mary House helps inhabitants obtain new jobs and find permanent housing, in addition to other important steps in creating a new life.
Jane Corwin, a Republican, is a businessperson. Her father created The Talking Phone Book business, and she helped out throughout her childhood; while she was in college, she even served as the vice president of marketing. She graduated from SUNY Albany and earned an MBA in finance from Pace University. She maintained a position as research director for a Wall Street corporation while remaining involved with The Talking Phone Book. After having children, she mostly worked at home.
She currently serves as an assemblyperson for the New York State Assembly, winning the 2008 election by a landslide and running uncontested in 2010. As assemblyperson, she has championed the rights of small business owners, even serving as the Chairperson of the Assembly Minority Manufacturing Task Force. She too wants to cut federal spending and reduce taxes, but supports Medicare as more of a voucher system.
Corwin is the president of the Josephine Goodyear Committee of the Women and Children's Hospital of Buffalo. While she is pro-choice, she has stated that she would support bills in favor of restricting taxpayer funds towards abortion. She also opposes gay marriage, and voted against a bill that would make it law for incarcerated women to be unchained during labor and birth, in addition to proper medical care surrounding pregnancy.
The election seems to be a pretty close toss-up between the two candidates. I look forward to seeing the results. Both these women are a manifestation of the women's rights movement; without it, these women's opinions would not have been heard.
I dub them both inductees into Shining Stars of Davida - strong women and men who make feminists proud.
I also want to say that Star of Davida has officially had over 10,000 pageviews. I'm shocked and honored that my little Jewish feminist blog has gotten so much attention in a relatively short amount of time (since July 2010). Thank you all so much for your support!