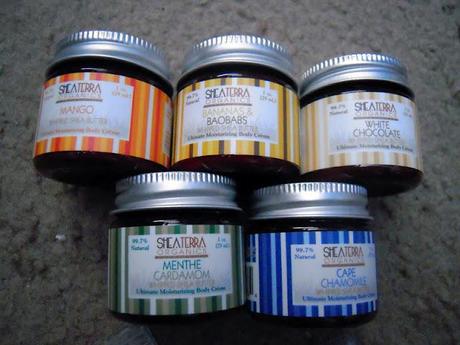 A few weeks ago, I got some cute little body creme jars from Shea Terra Organics. I love their philosophy and their products look so earthy and pure -and  the scents sound divine! Bananas, guavas, mint – who can resist? Not me! Above is what I got in all – 5 mini body cremes in Mango, Bananas and Baobabs, White Chocolate, Menthe Cardamom, and Cape Chamomile.
I've managed to try all 5 in one shot. One creme for each body area: two legs, two arms, and torso.
Overall, the body cremes felt very rich and concentrated – more like body butters. Companies define the terms "body butter" and "body creme/cream" so differently, so if one expects a butter to be thicker, they may encounter a creamier, thinner consistency like a cream. Of course, "lotion" should indicate the thinnest consistency, but I've felt some pretty thick lotions.
For me, a butter is the thickest – rich, concentrated, harder to spread. Should be the most moisturizing, best for dry areas like knees, elbows, backs of arms, and feet. Cream/cremes are the second thickest, being actually creamy and easier to spread, yet still super moisturizing. This consistency is my favorite -it works well all over and lasts a long time. Last are lotions – thinner, super easy to spread, and lightweight. Good for daily use, but doesn't last too long on the skin.
With that said, these Shea Terra Organics body creams feel more like butters to me. Makes sense, as the base is shea butter which has a naturally thicker texture. They took some muscle to rub onto my skin, and true to a thick butter form, a little indeed goes very far. Because it's mainly made of shea butter, it is super effective against dry skin, and would feel heavenly during the drier winter months. My own skin isn't that dry anymore, so they felt too rich for me right now. It does work wonders on my knees and feet, two consistently dry areas.
It works best when under clothes, of course. My legs, which I wore yoga pants over, stayed smooth for hours. My torso is still silky – love it. The skin on my arms isn't as soft from the cremes, but is still smoother than usual.
The Menthe Cardamom is a light green color, and smelled very energizing and minty. It's made with peppermint and cardamom essential oil. I don't know what cardamom's supposed to smell like, but I did mostly smell the peppermint. The scent from the jar was very nice – not like toothpaste, but like mint candy. However, it didn't smell as nice on my skin, and the scent faded after about 25 minutes. Rating:





Cape Chamomile was all right – it smells like chamomile, but a touch sweeter than usual. It smelled the same from the jar than on my skin, but this scent lasted a bit longer than the Menthe – about 30 minutes. Now, I'm not sure if it's just my nose getting numb from the scents or what, so it may actually last longer. Any of them might. I'm just giving my experience. Chamomile is sort of hit or miss with me – some chamomile products are great, while others are so-so. This scent was just average to me. Rating:





Bananas & Baobabs smelled exactly like banana Laffy Taffy. Very candy like scent. Smells great from the jar, but not so good on my skin. Didn't last that long either – it did fade into a more natural banana fragrance, but it was so light it didn't matter. Overall, I'd prefer a more natural banana scent. This was one I was really looking forward to, but the scent fell a little flat with me. Rating:





Mango was surprisingly great – tangy, sweet, natural and fresh, like mangoes themselves! I just had one this afternoon so it was nice to smell it again. Smelled the same on my skin and from the jar, and stayed smelling sweet for about 30 minutes. Faded into a softer version of the original mango scent. Not bad overall, but I've smelled better. Rating:





White Chocolate smells HEAVENLY from the jar – exactly like chocolate. I love chocolate, so this was a real treat for the senses. Its divine scent stayed on my skin for the longest – almost an hour – and my husband loved it. He couldn't stop sniffing my chest! ;) It uses cocoa butter and vanilla extract for its fragrance, and it comes in a natural while chocolate like color. This is easily my favorite out of the 5 I bought! A new staple! I'm going to get the full sized version eventually. Rating:





Shea Terra has promotions nearly every month, so subscribe to their newsletter and don't miss out! I'm looking forward to trying their other scents someday, such as Bourbon Vanilla and Pink Guavas and Pomegranates. 
Average  Rating:





Ingredients (Menthe Cardamom): Pure spring water (no recycled water), USDA certified organic shea butter (butyrospermum parkii), natural emulsifying wax NF, peppermint essential oil (mentha piperita), naturally based preservative (glucono delta-lactone, sodium benzoate), cardamom essential oil (elettaria cardamomum), less than 0.1% natural fruit/vegetable coloring (natural coloring fades over time)
Ingredients (Cape Chamomile): Pure spring water (no recycled water), USDA certified organic shea butter (butyrospermum parkii), natural emulsifying wax NF, Cape chamomile (eriocephalus punctulatus), naturally based preservative (glucono delta-lactone, sodium benzoate), less than 0.1% natural fruit/vegetable coloring (natural coloring fades over time)
Ingredients (Bananas & Baobabs): Pure spring water (no recycled water), USDA certified organic shea butter (butyrospermum parkii), baobab oil (adansonia digitata), natural emulsifying wax NF, all natural banana extract (musa sapientum), naturally based preservative (glucono delta-lactone, sodium benzoate), less than 0.1% natural fruit/vegetable coloring (natural coloring fades over time)
Ingredients (Mango): Pure spring water (no recycled water), USDA certified organic shea butter (butyrospermum parkii), natural emulsifying wax NF, mango extract (mangifera indica), naturally based preservative (glucono delta-lactone, sodium benzoate)
Ingredients (White Chocolate): Pure spring water, organic shea butter, organic cocoa butter, natural emulsifying wax, natural vanilla extract, naturally based preservative (glucono delta-lactone, sodium benzoate)
Notes: 99% natural, uses organic ingredients, natural preservatives, high butter content/base
Buy at: Shea Terra Organics