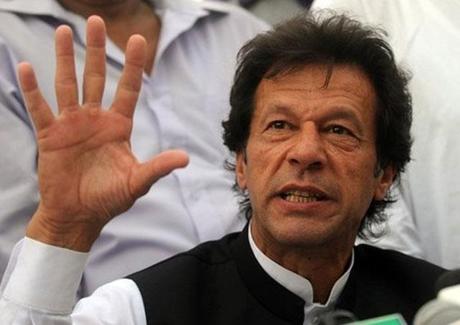 Pakistan Tehreek-e-Insaf (PTI) Chairman Imran Khan on Tuesday lashed the leadership of Pakistan Muslim League-N (PML-N) saying they are suffering from PTI phobia and not ready leave any stone unturned to get rule.
Imran Khan said Nawaz Sharif want to ride on banned outfits and Maulana Fazal-ur-Rehman to come into government because they just know about the politics of rule, progeniture and personal interests.
While addressing to a protest demonstration against the disruption of PTI party elections and sealing of party's electoral offices in Rawalpindi, Imran Khan said that Sharif brothers are afraid of PTI because it is holding party elections to bring real democracy in the country.
PTI chief said that the time has come for the thieves and looters to run away but the elected leadership of PTI and its workers won't allow them to flee and they will be brought to dock for accountability.
He announced that PTI Rawalpindi's party elections will now be held in Islamabad on Thursday.