Shadow Born: a New Adult Urban Fantasy Novel (Shadows of Salem Book 1)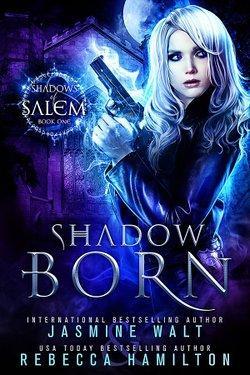 Chicago Police Detective Brooke Chandler is keeping a secret… and if she's not careful, it could get her killed.
Brooke is no stranger to the supernatural. In Chicago, vampires are just as prevalent as drug lords, and infinitely more bloodthirsty. So when her partner and fiancé dies in a mysterious fire while chasing down a lead in Salem, she suspects something dark and otherworldly is at play.
Blessed with the ability to see into the past by touching inanimate objects, Brooke transfers to the Salem PD, hoping her talent will help her get to the bottom of things. Between dodging assassination attempts and being stonewalled at every turn, the going is tough. Add in a mysterious fae club owner with secrets of his own and a personal grudge against her, and it becomes nearly impossible.
If Brooke wants to play in the supernatural sandbox, she's going to have to roll up her sleeves and get dirty. But how many people will have to die for Brooke to discover the truth about her fiance? And is she even ready to know?
Find out what lurks in the SHADOWS OF SALEM by pre-ordering SHADOW BORN, the latest Urban Fantasy hit readers are comparing to Karen Marie Moning and Patricia Briggs.
Pre-Order it NOW for only $0.99
Amazon 
Releases August 16th
About the Authors: 
Jasmine Walt - International Bestselling author. 
I'm obsessed with books, chocolate, and sharp, pointy objects. Somehow, those three things melded together in my head and transformed into a desire to write. Usually fantastical stuff, with a healthy dose of action and romance. My characters are a little (okay, a lot) on the snarky side, and they swear, but they mean well. Even the villains sometimes.
When I'm not working on my next book, you can find me working on my dao sword form, spending time with my family, or binge-watching superhero shows on Netflix. I love to hear from my readers, so if you've got a question or just want to say hi, feel free to contact me via my website at www.jasminewalt.com.  
Rebecca Hamilton is a USA Today Bestselling Paranormal

Romance author who writes books for teens through adult. 
She lives in Florida with her husband and four kids and enjoys dancing with her kids to television show theme songs. Having a child diagnosed with autism has inspired her to illuminate the world through the eyes of characters who see things differently.
Rebecca is represented by Rossano Trentin of TZLA and has been published internationally, in three languages. You can follow her on twitter @InkMuse

***
Want to be Notified of Rebecca's New Releases? Join her mailing lists below!
Adult:
http://madmimi.com/signups/143995/join
New Adult:
https://madmimi.com/signups/55109/join
Young Adult (Coming Soon!):
https://madmimi.com/signups/172929/join
***
To learn more about Autism Spectrum Disorder, please visit the website below.
http://www.autisticadvocacy.org