For all you Brooklynites or vistors to the area, I have found a nice little gem in Crown Heights, Brooklyn.  It's a new little cheese shop called Wedge and it's a great new store to the area.
There are many little items to browse through in the store, but their big ticket item is the cheese. There are all sorts of other products to buy like jam, condiments and different beverages. They even have picnic baskets to buy to take to the park!
Now, I should be writing about all the cheeses I've tried, but, well… I haven't tried them yet. I'm really quite disappointed in myself. Please don't stop reading. There is more to this blog.
Even though it is in many ways not as exciting as cheese,  I have been trying a pasta they sell called Sfoglini!  It's a great organic pasta that is made with semolina flour.  I know that "it's just pasta." So, why not get the cheaper kind at the grocery store? But I have to say I'm hooked. I'm not sure what exactly makes it taste so good (probably the semolina flour), but the pastas has a very hearty taste to them and they taste far more filling than normal pasta I have cooked in the past.
When I went to their website at sfoglini.com, I also read they use bronze dies which adds to the texture of the pasta. Also, they air dry the pasta which adds to the flavor. Clearly, I'm not making pasta at home so I think for 10 dollars this is a great find.
The nice thing is they make a variety of pastas that I think are fairly unique. They have a great pasta called Mint Radiator. It's made with pureed fresh mint and it's divine. I've also bought a pasta that is called "trumpets" which basically are shaped like a "flower or horn."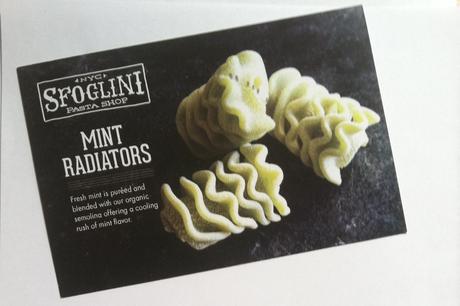 I've made two pasta dishes so far but my favorite of the two is "Mint Radiators with Yellow Zucchini"
This dish can be made on any weeknight. It's very filling and the zucchini makes me feel like I don't have to made a side salad or cook another vegetable. (I'm a big fan of the one dish dinner).
Mint Radiators with Yellow Zucchini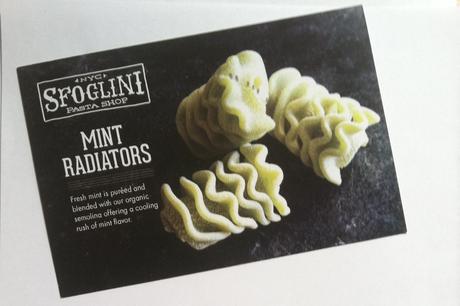 Print
Author:
Sfoglini.com
Recipe type:
Vegetarian/Main Dish
Ingredients
6 oz Sfoglini Mint Radiators
2½ oz yellow zucchini (cut in moons)
1 oz diced red onion
1 oz chopped kalamata olives
6 chopped mint leaves
2 tbsp olive oil
2 tbsp grated parmesan cheese
pinch of chili flakes
salt and pepper
Instructions
Heat 3 quarts of salted water in a large pot and bring to a boil.
Add pasta and cook for 5-8 minutes.
While pasta is cooking, saute the zucchini and onions in 1 tbsp of olive oil over medium to high heat.
After about 1 minute, add the olives and a pinch of salt and 1-2 tbsp of the pasta water so the onions don't caramelize.
Cook for another 2 minutes making sure the zucchini stays firm.
Add the pasta, 1 tbsp of olive oil and 2 tbsp of cheese and a splash of pasta water to saute pan and stir together.
Toss in mint leaves and a pinch of red chili flakes.
Cook for another 2-3 minutes.
Add salt and pepper to taste and top off with grated cheese.
3.2.1682
If you are interested in going to Wedge yourself click below for hours and address.
Wedge
7288 Franklin Ave
Brooklyn, NY 11238
https://www.facebook.com/wedgeonfranklin
http://www.yelp.com/biz/wedge-brooklyn
To learn more about Sfolgini, here's the link below:
http://sfoglini.com