It's performance week for Don Giovanni!  I am very excited to perform my first opera with the Conservatory this week.  Tickets are only $13, and it will be full of sex, violence, Italian words, really old music, Tim Burton-esque designs, supertitles, and hopefully a few laughs. So, if you are interested and are in the Kansas City area, please visit us.  Like I mentioned last week, the opera is double cast, so I will only be performing on Friday at 7:30 and Sunday at 2:30 at White Recital Hall on the campus of UMKC.
Because it is a special week for me, it will be a little different for my World of Opera blog.  Every day this week, I will have a special something about Don Giovanni.  So please check back every evening for a little entertainment and some insight into what this opera is all about.
Today's post:
SEX AND DEATH - A LAZY PERSON'S GUIDE TO DON GIOVANNI
Ok, so I understand.  You don't know Italian, you don't like to read, and you think three hours of classical music can get a little too boring.  I get it, you're lazy.  I'm here to help you out though.
Tip #1 - Try not to read the supertitles the whole time!
(supertitles are like subtitles in movies, but appear above the stage in operas)
I know the opera is in Italian and you want to know what is happening.  Go ahead and glance up there a few times, but for goodness sake, if you find yourself reading the whole time, you are on a dark and torturous path towards the worst kinds of sleep - the kind often experienced in high school statistics class and ends with an embarrassing snore or drool.  Reading the libretto, line by line, slowly over three hours is something you can avoid simply by understanding the plot and knowing when to look up at the supertitles.  First, you have to understand how the opera is set up.  Mozart's music is REALLY old and it follows a pretty strict form.  There are recitatives and arias or choruses.  The recitatives (or recits) are where most of the action occurs.  You should probably read the recit supertitles so you know the little details in the story.  Recits kind of sound like spoken dialogue, and it has very little accompaniment.  Pretty much any time that there isn't an aria or chorus (any time that there isn't a lot of music going on) that's a good time to read the supertitles.  As for the arias and choruses - don't feel like you have to read the supertitles all the time.  Most of the time, not much is going to happen: a singer sings "I love you" in about twelve different ways, and the other person sings "It's not you, it's me" twelve different ways.  For these moments, go ahead and watch and enjoy the beautiful music, sword fights, sex scenes, descents into hell, etc.  That's the fun part of the opera.  Let's have some practice:
Come back tomorrow evening for tip #2:
Remember, Operas are NOT Movies
, which will include a two paragraph lazy person's synopsis of Don Giovanni.
As for the arts crisis in Kansas, the state Senate is voting on Wednesday at 2:30 to repeal the executive order by Governor Brownback, which eliminated public funding for the arts in Kansas.  Please visit the Kansas Arts Council website to see what you can do to help in a last minute push to help overturn the order.
Also, Happy Birthday to the late Albert Einstein - one of the greatest minds in human history, and whose birthday happens to fall on Pi day (3/14 - Pi is about 3.14).  And a small unrelated note to those wanting a recording of the Monteverdi Vespers, you should hear from me later this week.  I had more people interested than I expected - sorry for the delay.
Like every week, I have some schedule additions again.  I will be performing the Star Spangled Banner at the Kansas City Royals baseball game on April 18 at 7:10 PM versus the Cleveland Indians and I will be performing the Star Spangled Banner and O Canada for Sporting KC's soccer game on June 25 at 7:30 PM versus the Vancouver Whitecaps in the beautiful and brand new soccer stadium in Kansas City.  I am a HUGE Major League Soccer fan, and I am really excited and honored to perform in only the 3rd game in their new stadium and being the first to sing Canada's National Anthem in the stadium, which will be broadcast nation-wide in Canada.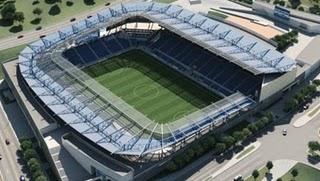 New Sporting KC Stadium
UPCOMING SCHEDULE
Don Giovanni (Don Ottavio)- Conservatory Opera - 3/18 & 20
Wichita Symphony Orchestra Naftzger Young Artist Auditions - 4/2-3
National Anthem - Kansas City Royals vs. Cleveland Indians - 4/18
Conservatory Finale  - Poulenc Gloria (probably on my top 10 favorite pieces ever) featuring the Conservatory Choirs and Orchestra - 4/23
National Anthem - DOE Small Business Conference & Expo - Kansas City Convention Center - 5/10
Administrative Director of the 33rd Annual Summer Choral Institute - 6/5-11
National Anthem - Sporting KC vs. Vancouver Whitecaps - 6/25
Sugar Creek Opera Festival (Chicago) - role: tba, opera: Daughter of the Regiment, maybe Little Women as well - 7/20-8/7
Kansas City Symphony Chorus Auditions - tba