My apologies, dear readers, for the lapse in posting. I've been so caught up in visiting museums, neighborhood groups and tweeting, that I've started many blog posts, but haven't finished any. But no worries, I'm back on it and have many things to share with you.
This month's Sew-lebrity Spotlight is Ina R. from the Material Girls Neighborhood Group, where she showed her recently-finished quilt that took her 18 months to make. Yes, you read that right…18 months! Not that anyone's counting.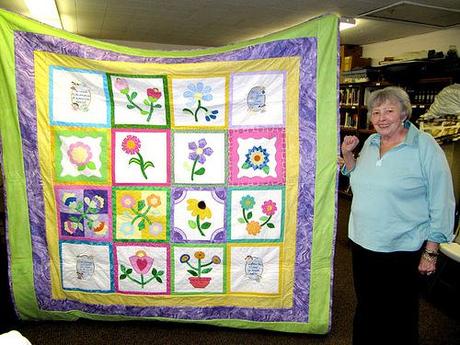 You might wonder how someone can spend more than a year on a project. But when the recipient is a special girl for her bat mitzvah, it's easy to understand that every stitch is knowing that it will bring a smile.
The quilt is a combination of appliqué and machine embroidery in the corner squares.
I don't know if Ina realizes it, but this quilt is a bridge of the traditional and modern quilting. The appliquéd blocks are pretty traditional, but the colors and the design simplicity of the pink block crosses over into "modern" quilting. You haven't heard of modern quilting or modern sewing? I'll have a post on that in the coming weeks.
Brava to Ina for this amazing work of love!
---
Do you have a project that you've been working on for quite a while? Email me your story and a picture; we'd love to showcase you with it!