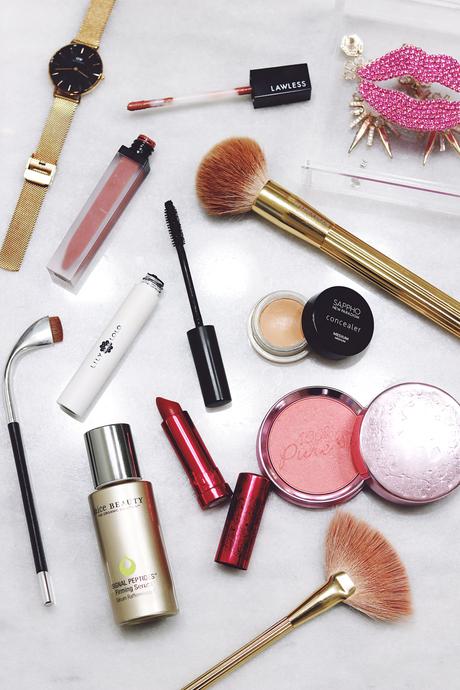 It's a new year, and what's a better time to "clean up" your beauty act than now?! Why change to clean? Our skin is the largest organ and it CAN absorb up to 60% of the chemicals placed on it (depending on the product, etc.)? Supposedly, women eat up to 7 pounds of lipstick in our lifetime. Why not place clean/organic products on yourself so you don't have worry about what is or isn't being absorbed or what you may or may not be eating that isn't food?!
I'm sharing my clean beauty faves that have replaced my dirty cult classics. I've been researching and testing for this post for months, and I'm so excited to share my findings!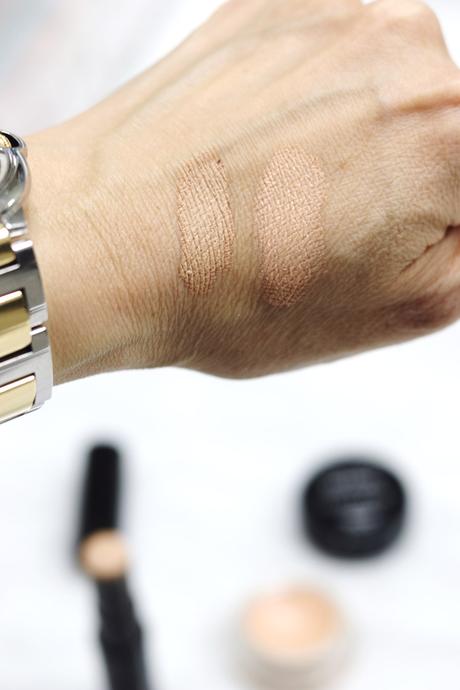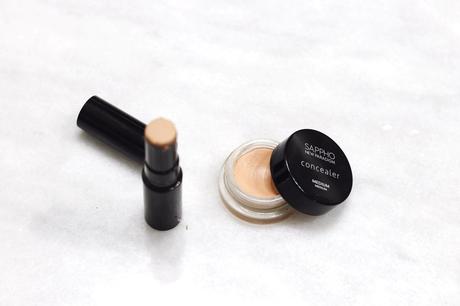 I've got designer bags under my eyes! LOL! That quote cracks me up, but my under eye bags are a serious matter. I've tried all kinds of concealer from drugstore brands to the makeup counter. The best coverage was Cle de Peau... until now. I discovered Sappho Beauty and the Neiman Marcus Indie Beauty Expo. The founder, JoAnn Fowler, sat me down for a touch-up and immediately went for my dark circles. (Whose been up multiple times at night for a baby?!) Anyhow, I was AMAZED! The coverage is impeccable. You have to use it similarly to the Cle de Peau by warming it with your finger and then voila! Goodbye dark circles.
I would say that the only potential downside is the limited color palette. There are 5 different shades. However, I think simplicity is best! I'm wearing the medium which seems to have a pink undertone but works with my yellow undertone skin. You can see the comparison of Cle de Peau versus Sappho swatches on my hand.
All Sappho Beauty products are vegan and have an EWG rating of 2 or less (which means a low hazard score as far as toxic chemicals to your body)! After discovering this brand, I became a bit obsessed and use this eyeshadow duo (and this for " natural days"), this blush, and this lipgloss! Oh, you'll read about the mascara below too!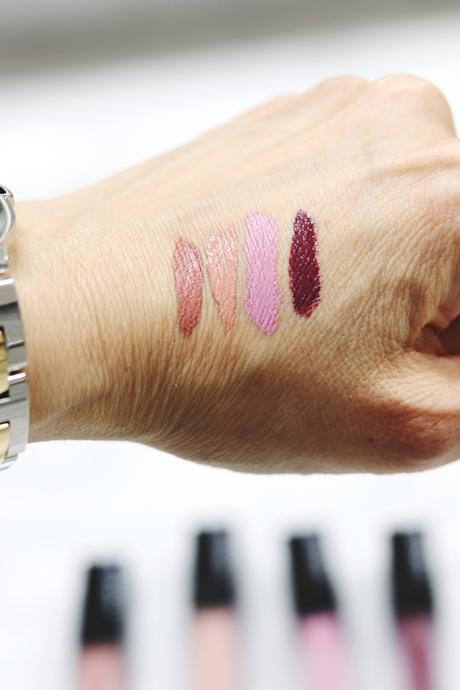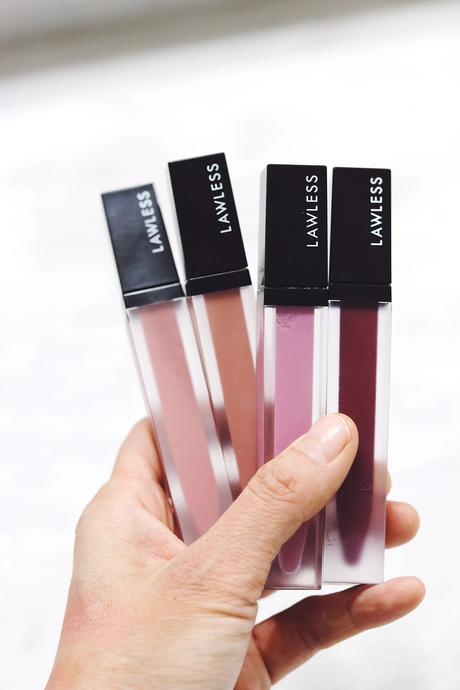 Big Luscious Matte Lips. They are all the rage thanks to Kylie Jenner and the 90s resurgence. I was kind of interested in the Kylie Lip Kit (with all of those Instagram giveaways), but sort of not at the same time. Then, I discovered Lawless Beauty at another Neiman Marcus event. It's the clean version of the Kylie Matte Lip. I bought 3 colors that day - Cameron (light nude), Jake (pinky lilac), and Dane (rich plum). I know - all in the name of "research"!
They go on smoothly and have a slight berry smell. I LOVE the color George (latest buy) which is described as a warm taupe nude. It seems to be a universally flattering lip color for all skin tones. You can mix the colors too. I feel like the Jake is too blue and Dane is too purple so I warm them with Cameron!
// above pic (L to R): George, Cameron, Jake, Dane //
Annie Lawless, founder of Lawless Beauty, is also the founder of Suja Juice. She has developed this makeup line that is always free (AF) of endocrine disruptors, carcinogens, and other toxic chemicals.
QUICK TIP for matte lipstick: Exfoliate (I use my Tata Harper regenerating cleanser) then moisturize to prevent that dry and cracked look that you can get with matte lipstick.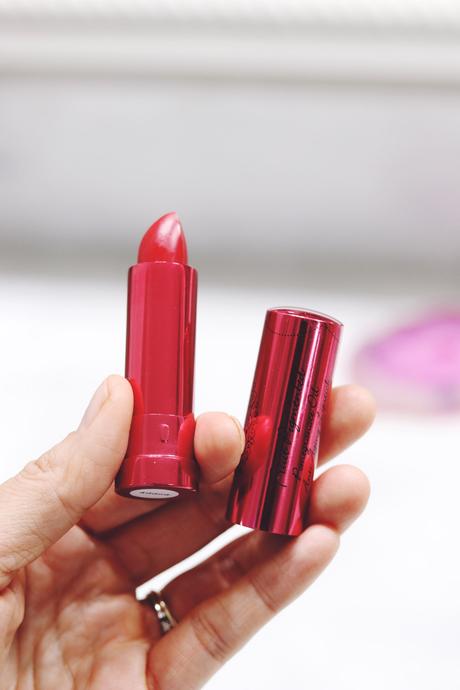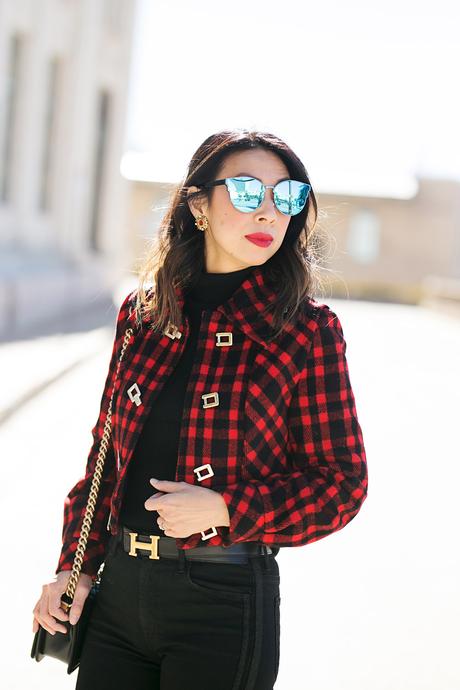 The perfect red lipstick. Is there such a thing? Well, MAC Ruby Woo Red is said to be it! I've now found the clean version serendipitously. The Poppy lipstick was a free gift with purchase when I bought this 100% Pure Pretty Naked Eye Palette. Poppy is a perfect true red - not too cool or too warm.
It's a vegan lipstick with shea butter as the base. Like most reds, it can bleed into the fine lines around your lips so I recommend using a lip liner.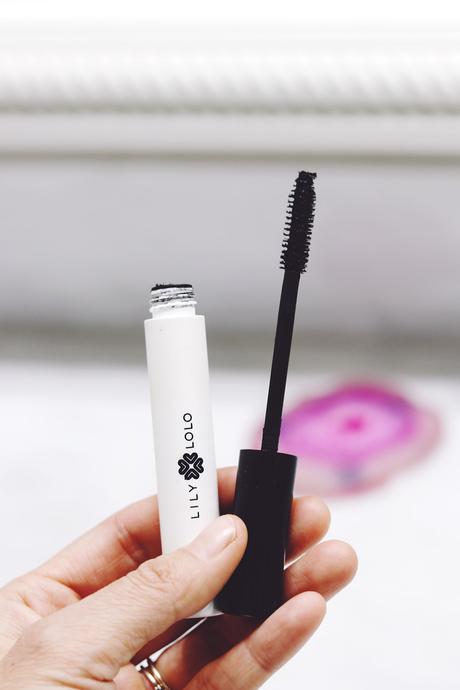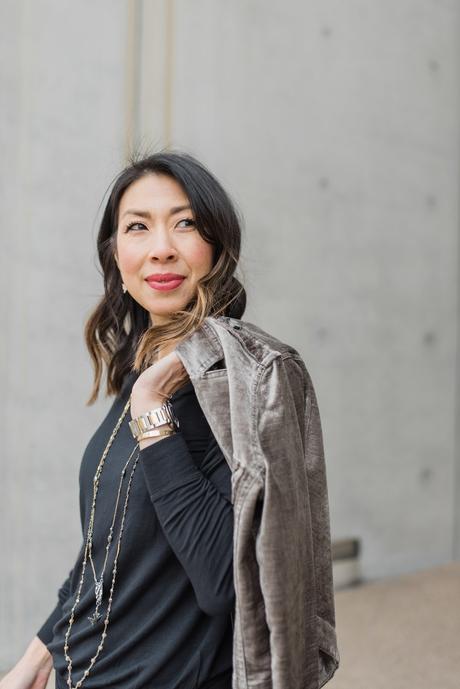 I've mentioned them before on my clean beauty page, and this is also one of my FAVORITE natural brands! I have almost all the eyeshadow palettes and mascara, lipsticks, highlighters + bronzers, and blush from them.

You ALWAYS have me at lashes. THIS section took the longest because I've been testing different mascaras to find the best one. Mascara was the last thing for me to switch because clean mascaras don't offer the same dramatic volume compared to regular ones. It actually came down to the last three that I tried, and the Lily Lolo won overall!
This mascara is a great consistency (not too wet), very buildable, doesn't smudge, and didn't cause my stick straight Asian lashes to fall after curling them. The two runners-up are Juice Beauty Ultra Natural Mascara and Sappho Beauty Vegan Mascara. They both work really well, but the Lily Lolo provided a smidge more volume. When I'm in a hurry, then I use one coat. When I want drama, then I use 3 coats.
For major drama, I use this trick that my beautiful friend Katey shared about layering mascaras. My base mascara is Neulash peptide mascara (or sometimes Pacifica Dream Big Volumizing Mascara). I find that "drier" mascaras work best for the base mascara. My volumizing mascara is either Dr. Haushka volumizing mascara (really wet formula - good for layering on the base layer), Juice Beauty Mascara, or Lily Lolo Mascara. Finally, my separating mascara is Sappho Beauty. The silicone separating brush really does the trick!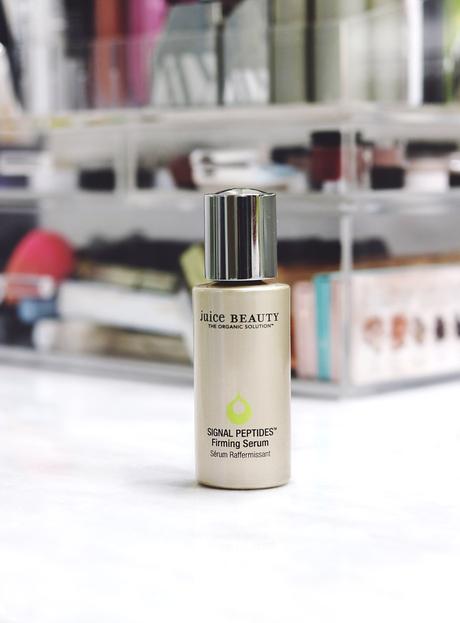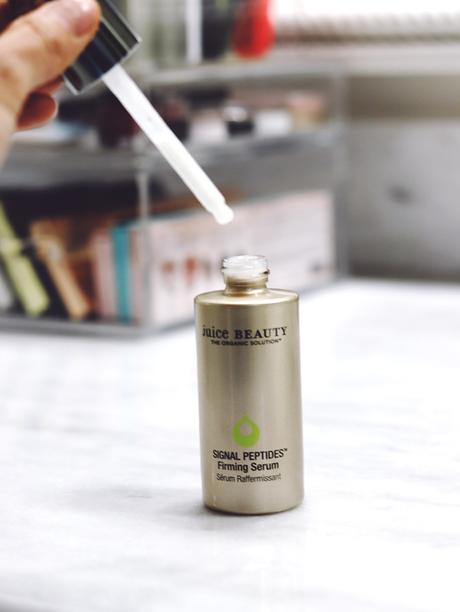 If you want a separate post of clean mascara reviews, then let me know if the comments! I literally have 10 different clean mascaras at this moment!

This serum is a recent discovery, but it's SO GOOD that I have to share it! I've only been using the Juice Beauty Signal Peptides Firming Serum for a week, but it worked IMMEDIATELY. Also, this is the only product that I have not purchased myself but I didn't want to leave it out for that reason. It IS that good.
The first time I used it, the serum transformed the red, angry, itchy, and raised eczema on my forehead into calm skin the next morning. Long story short, my friend and goddaughter came into town. I'd been working more and stressing about some things (work issues, cleaning the house, blog photo shoots, etc.), and my diet was out of control. Enter mad forehead eczema. I was at a Juice Beauty event and went home with the serum in a goodie bag. I decided to try it that night even though it clearly states "Do not use on irritated or damaged skin". Luckily, my skin was healed!
The three main ingredients come from the sunflower (plant lipids for hydration), rice (peptides to firm skin), and blueberries (pterostilbene - an antioxidant that protects our skin). It comes in a self-loading dropper so you get the correct amount every time you open it. It's an emulsion and smells nice (kind of like apples to me) that spreads easily.
The Signal Peptides Firming Serum clinical test claim that people experienced firmer, smoother, and tighter skin. I definitely saw that with my forehead but will report back after at least a month of using it. It also states that there was a 26% improvement in skin elasticity after 4 weeks. This was measured with a cutometer device and is MORE elasticity improvement than any of the other brands tested! Again, I'll let you know in a month!
I've been a fan of Juice Beauty forever and learned some new things about the brand at an event where I met the founder, Karen Behnke. Yes, it's an organic brand like so many that are now out there. However, they undergo clinical trials and use the same labs that other major brands use. Being a pharmacist, that impressed me because they are clinically validated by science.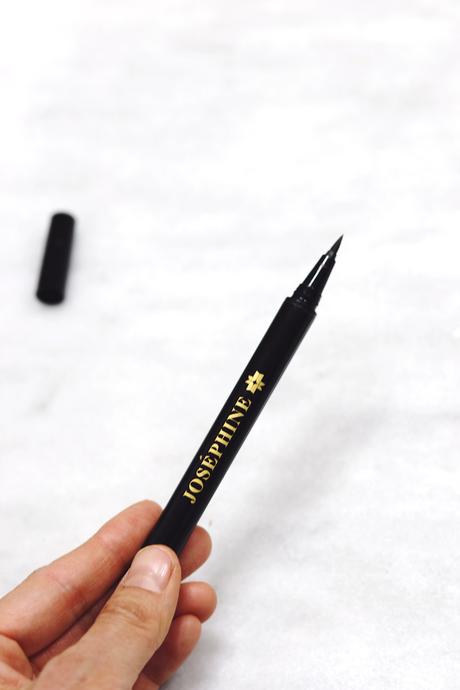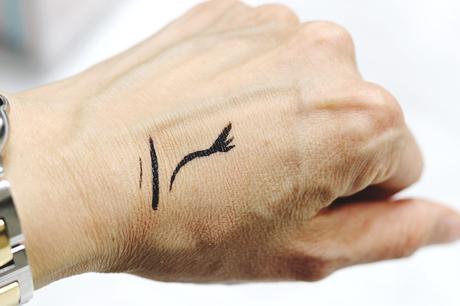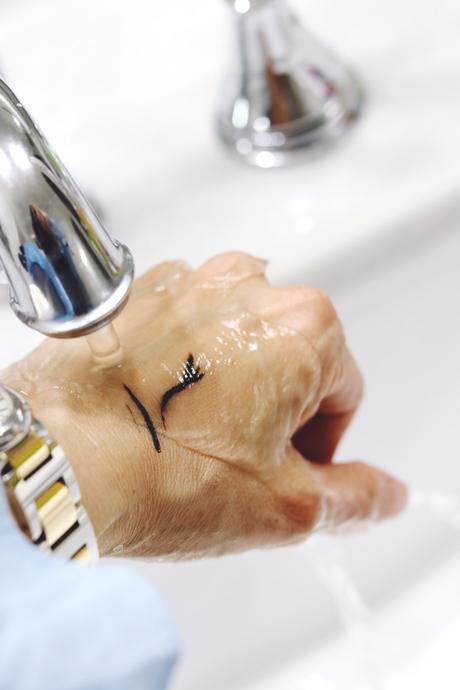 Never ask a girl with winged eyeliner why she's late! Do you feel me?! Eyeliner is supposed to be simple but can be so complicated especially if you are doing a cat eye. Josephine Cosmetics is another discovery from the Neiman Marcus Indie Beauty Expo, and I LOVE my liquid liner. Um, do you see the picture of my hand under running water and the liner NOT budging?! Wow right?!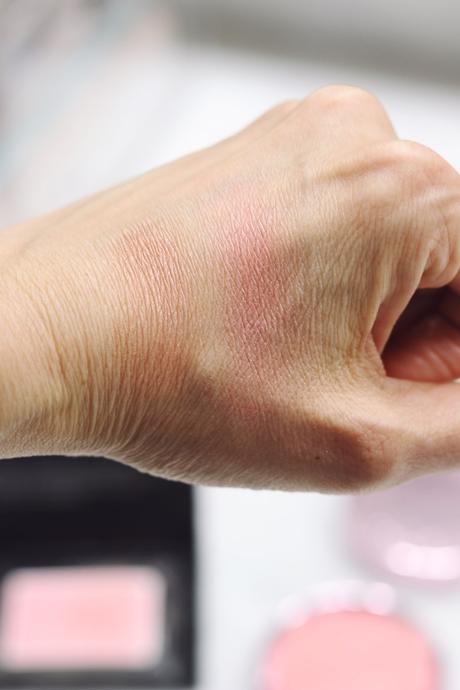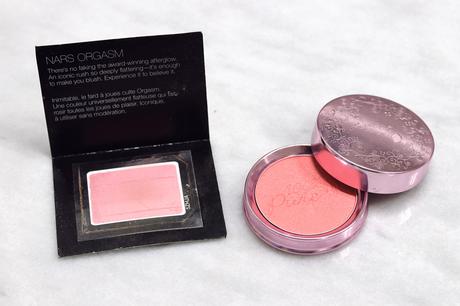 The felt tip is so easy to use and you can adjust the width of the line with the amount of pressure you put on it. It's is a deep black and creates such a wonderful cat eye. My eyes do water sometimes from seasonal allergies, and the liner will smear if I rub my eyes. However, I can't fault the liner if I'm actively rubbing it off!
I also have the Josephine eyeshadow quad which is beautifully pigmented and wear the colors separately or all together for a fun eye!

NARS Orgasm is that perfect peachy pink color that makes you look like... well, just look at the name! I was so happy when I found this natural blush in a comparable color. If you look at the swatch on my hand, you can see that it leans more to the peachy-side than the NARS version. However, it still gives you that beautiful healthy glow on your cheeks.
The only downside is that the makeup will crack once you use it down and the bottom shows in the pot. This happened with my bronzer and highlighter, so I want to give you fair warning!

Okay friends, which clean beauty products are you going to switch out? This is an obsession passion of mine, and I want to share more with you. Please let me know if you have any questions and what else you want to hear about!

Happy Wednesday Y'all. Today is another catch-up day. I went to work out this morning (after over a week on doing nada) and it's was a killer. We ended with burpees if that tells you anything. Also, I'm doing another Nekter Juice Cleanse today. Previously, I did a 3-day cleanse/detox and it helped SO much with my sugar/salt cravings. Is this a way to pull out your sweet or salty tooth?! LOL!
Thank you so much for stopping by and supporting SOS! I truly appreciate it!
JOIN THE #SAMFAM // SIGN UP FOR THE NEWSLETTER BY CLICKING HERE.
CHECK OUT MY INSTAGRAM SHOP HERE TO SHOP ALL OF MY INSTAGRAM LOOKS!