Food Network Star Justin Warner was in Asheville in January to film an episode of his new Food Network Show Rebel Eats. The Asheville episode premiers tomorrow night at 10:00 p.m. on the Food Network.
Warner visited Ultimate Ice Cream and the Blind Pig Supper Club while he was here.  Here is a blurb from Mackensy Lunsford of Eat Scene about Warner's visit with Blind Pig:
Masterminding the road-food inspired dinner was an all-star team of chefs including Mike Moore of Blind Pig (and the forthcoming Seven Sows Bourbon and Larder), Elliott Moss of the Admiral (who's helping to build a restaurant on Banks Avenue that will feature Southern-focused fare), and some of the kitchen staff of Storm Rhum Bar, headed by chef Owen McGlynn. Assisting in the production of the food (particularly the whole-hog barbecue) was Justin Warner of Do or Dine in Brooklyn. Warner, winner of the reality show "Food Network Star," is in town filming part of a series for the Food Network. The title of the venture is still under wraps.

The evening's menu included creative riffs on truck-stop classics including bacon and eggs (with a sous vide 63-degree egg and coffee gastrique) and a brilliant deconstructed pot roast with potato-bone marrow puree.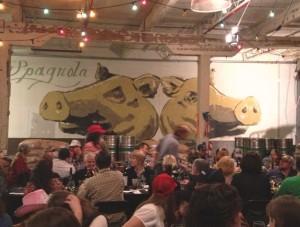 The Crowd at Blind Pig via EatScene
It will be good to get a first hand look at how Blind Pig operates because I tend to romanticize the events in my head. Someday I will scrounge up enough change to attend one of their events.
I set my DVR, because I have a life and there is no way I would be at home by myself on a Saturday night watching the Food Network. Just kidding if my friends from out of town weren't in town I would probably be doing exactly that! I can't tell you how many times I have cried myself to sleep to Diners, Drive Ins, and Dives marathons on Friday evenings (too much information?).