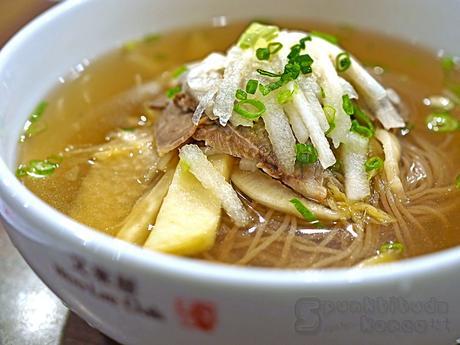 Naengmyeon 냉면, or cold buckwheat noodles, is one of the most ubiquitous traditional summer food in Korea. Interestingly, this dish first appeared in North Korea as a specialty dish that was eaten only during the winter. It can now be found throughout Korea year-round, and one of the most famous restaurants serving this humble dish in Seoul is Woo Lae Oak 우래옥 (又来屋,which means House of Many Returns ). Opened in the pre-Korean War era in 1946, it is one of the few places in the city that serves authentic North Korean Pyeongyang-style naengmyeon. For the older generation Northerners, it is also a nostalgic reminder of the home they left behind during the war.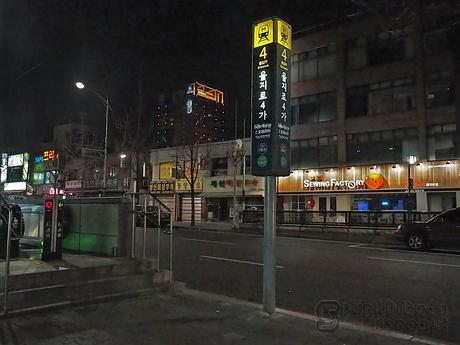 To get to Woo Lae Oak, take the subway to Euljiro-4-ga Station, Line 2 & 5, Exit 4. I wish the "Sewing Factory" shop just opposite the road abundant prosperity and be in business for a long long time, cos' it is the best landmark along the endless row of shops :p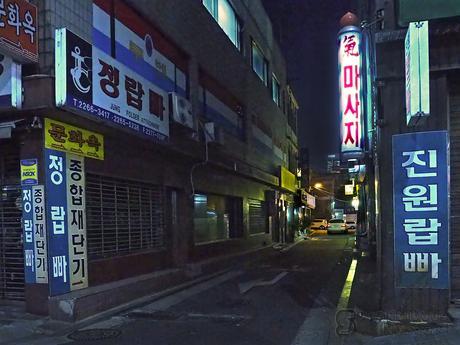 Walk straight for about 10 metres from Exit 4 and turn right at the first alley you see. Go 50 metres further and turn left at the first alley.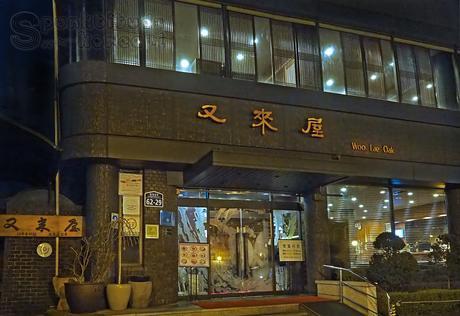 Voila – right before you is the famous Woo Lae Oak. It was freezing that night, but I was determined to taste the naengmyung which came highly recommended by the owner of the Hanok (traditional Korean house) I was staying at.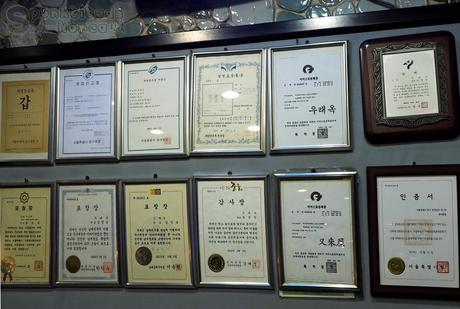 You are greeted by a wall of awards and commendations just as you enter the restaurant.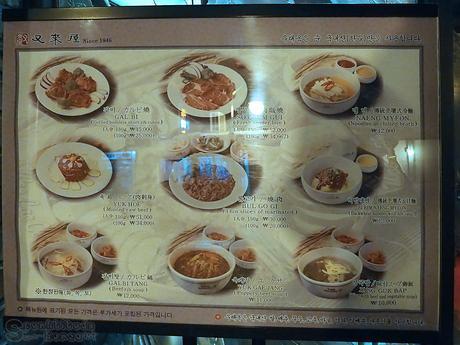 Besides its famous Pyeongyang Naengmyeon, other popular dishes include Bulgogi (pan-fried beef), Yukhoe (sliced raw beef),  North-Korean style Bok Jaeng Ban (steamed sliced beef in broth) and Chap Chae (stirfried vermicelli noodles with beef & vegetables).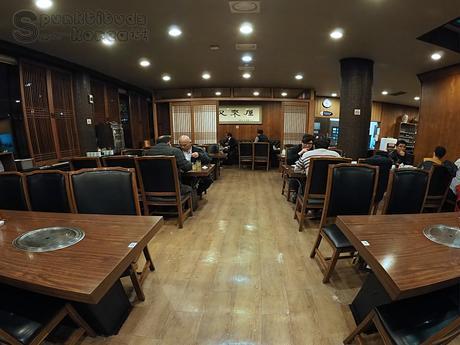 The restaurant's founder, Chang Won-il, moved his family from Pyongyang to Seoul after World War II, and opened Seo Lae Oak (House from the West) specializing in bulgogi and naengmyun in 1946 with much success. The beginning of the Korean War which started shortly after forced the family close its business to seek refuge, only returning to re-establish their popular restaurant at the same place after the war ended and changing to its current name Woo Lae Oak, meaning "House of Return". I was surprised to see that the restaurant looks upscale as I was expecting a more traditional and boisterous atmosphere.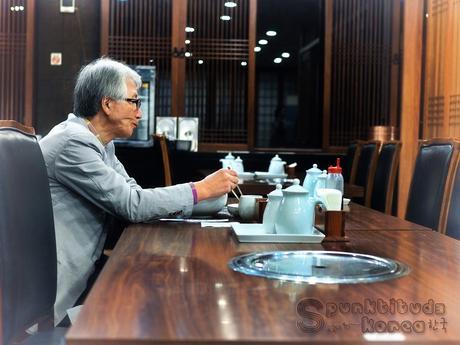 With its storied reputation, eating at Woo Lae Oak is a meal infused with culture, and nostalgic for its older North Korean customers.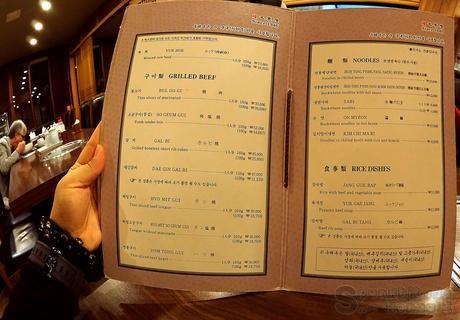 Time to satiate those hunger pangs!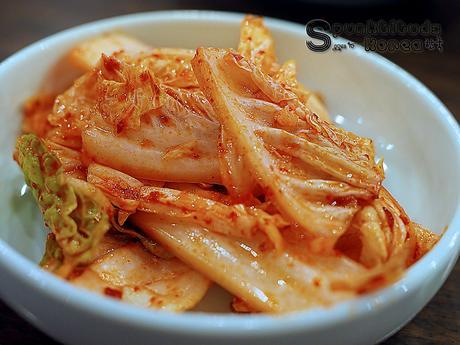 An ubiquitous dish to start every Korean meal – kimchi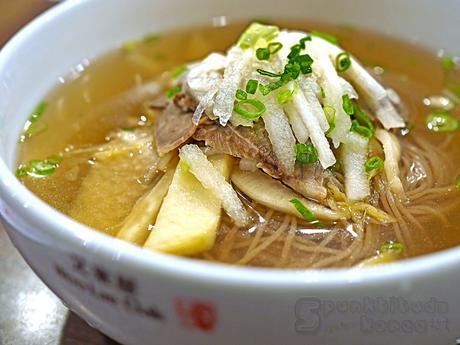 What's special about naengmyeon at Woo Lae Oak is that its noodles are made to order each time. It is also made of 100% buckwheat, giving the noodles a soft and earthy flavour. A rich beef stock is used instead of traditionally used pheasant stock (which some may find the taste too gamey).
There are basically two types of naengmyeon, differeing in the way they are served – Pyeongyang naengmyeon (mul naengmyeon) is served in a chilled broth (above) and Hamheung naengmyeon (bibim naengmyeon) comes topped with Korean chilli paste. Both versions are usually garnished with cliced beef, boiled egg, cucumber and strips of crunchy pear.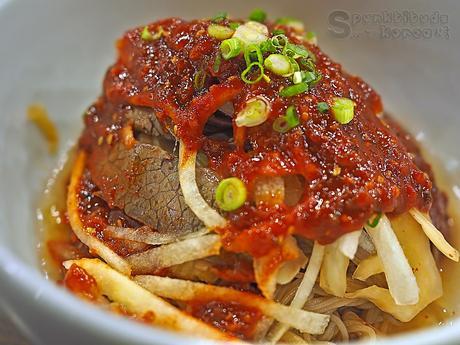 A fiery-red Hamheung naengmyeon which tastes less potent than it looks.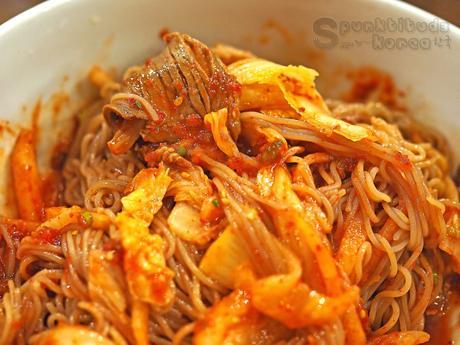 Mix it up and slurp away! I enjoyed this version more as I like some spice in my food. The noodles had a firm yet smooth bite.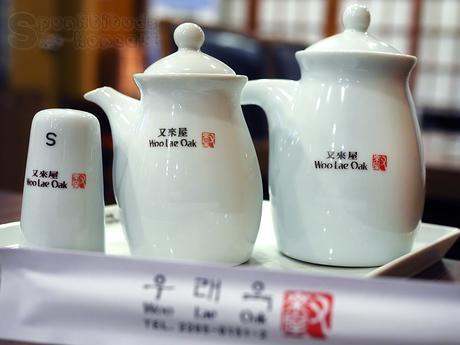 While keeping close to its 69-year-old roots, Woo Lae Oak has opened several branches in the United States, all run by members of Chang Won-il's family. They readily admit that the American outlets' food tastes different because Korean ingredients are not readily available. Until I get a chance to visit Okryugwan restaurant in North Korea, the origin of naengmyeon (it is said that the late leader Kim Il Sun instructed that the distinctive taste of Okryugwan naengmyeon be preserved forever), Woo Lae Oak would be the closest I can get to tasting a slice of North Korean culture.
Woo Lae Oak 우래옥
Address: 118-1, Jugyo-dong, Jung-gu, Seoul, South Korea (서울특별시 중구 주교동 118-1)
Subway: Euljiro-4-ga Station, Line 2 & 5, Exit 4. Walk straight for about 10 metres and turn right at the first alley you see. Go 50 metres and turn left into the first alley you see.
Opening Hours: 11:30AM to 9:30PM (Last order 9:00PM); Closed on Monday, Seollal Lunar New Year 설날 (1 January) & Chuseok Korean Thanks-giving 추석 (15th of August of the lunar calendar)
Reservations: +82 2 2265 0151 2 (in Korean; or you can try speaking in Chinese)
Wesite: http://우래옥주교점.com/index.php (in Korean)
37.568185
126.998709