CNN reports that self-driving cars are now legal in California. "That's soooo 1983," declares Knight Rider's Kitt, who was thrown in jail years before the unfunny cast of Cars 2!
3 Worse Things Than Being A Self-Driving Car In California.
1. Being a self-driving car for Paris Hilton or Lindsay Lohan in California. "This is awesome," everyone thought, "Now these two people who are not bright enough to use all their money to get a chauffeur will never drink and drive again!" But because they're not bright, they'll fill up the car with Grey Goose instead of mere premium gasoline, resulting in the car getting busted for impaired driving.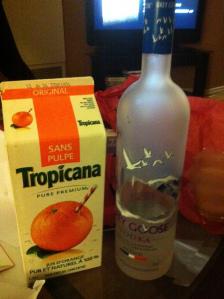 These are not the "premium" liquids your car's instruction manual meant you to fill up with!
2. Being a self-driving car in Los Angeles during rush hour! Then you're really just a self-parking car, and all of the self-parking Lexuses will make fun of you, fancy-pants!
3. Being a self-driving car in California in the sequel to Driving Miss Daisy. You just put Morgan Freeman out of work, right when he was going to cross "riding in a self driving car" off his bucket list, you jerk!