It has been a very long time, I am into the stream of blogging. Feeling glad to end my long interval with A Superfood Recipe. And the Super-food ingredient is cow's colostrum milk.
                     Colostrum is the fore milk produced by all the mammals after giving birth. This is considered to be the first gift of mother to her child. Packed with lots of antibodies and nutrients, is a low fat and high protein content milk. The cow version of colostrum is Bovine Colostrum.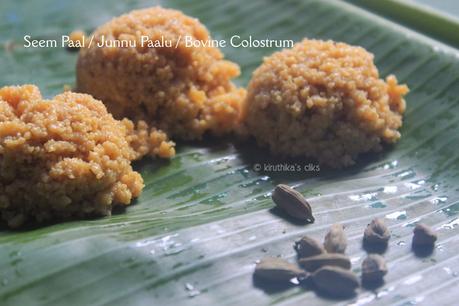 This bovine colostrum is gaining popularity among the athletes and weightlifters. The high protein value is an asset to athletes. The abundance of amino acids in colostrum is considered to be a boon for weight lifters in making them stronger and bigger. Apart from sports and athletic persons, bovine colostrum is used for gastrointestinal benefits.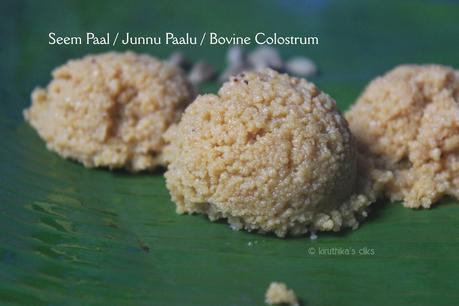 There are various methods of preparing the colostrum milk. Even little watery version is also being prepared in my native. This s a dry version. I have completely reduced the colostrum milk, adding jaggery and cardamom. And the shelf life for this dry version is four to five days, without refrigeration itself. For cold countries/climates the shelf life extends little more.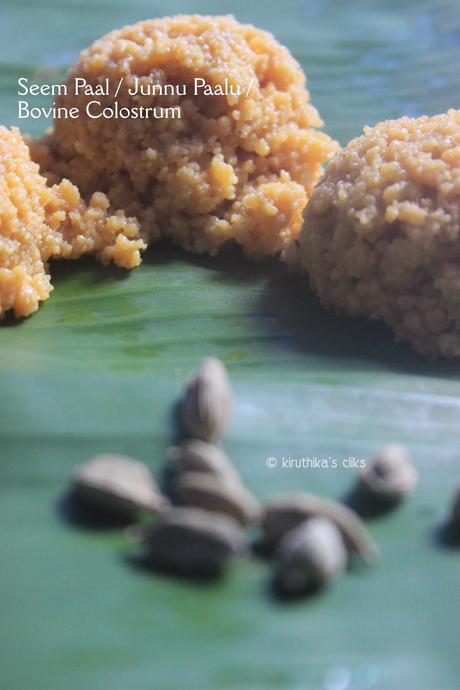 Prep Time 2-3 mins
Cooking Time

 30-40 mins
Ingredients
5 cups
 Cow's Colostrum Milk/ Seem Paal/ Junnu Paal
1 cup
 Jaggery / Palm Jaggery (Crushed)
5-6 nos
 Cardamom (Crushed)
Procedure
1) The colostrum milk is yellow in colour. Shown in the picture below.
2) Crush the  palm jaggery or jaggery, add little water and heat it till it melts completely. Then filter for the impurities.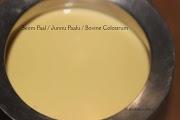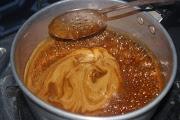 3) Pour the milk in a wide opened vessel. In medium flame, keep on stirring the milk. Within five minutes you can see the milk forming and then coagulating. By this time it looks like curdled milk.

Keep on stirring it with a ladle. When almost the whole content is reduced to half add the crushed cardamom.

4) When almost all the water is reduced, add the jaggery syrup. Keep on stirring.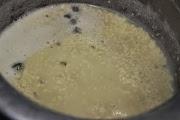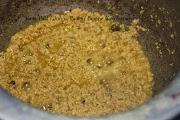 5) When the whole content is out of water, switch off the flame. Allow it to cool down completely and then transfer it to a container.  
Note:
The foremilk or the first milk produced by cow after giving birth to calf is colostrum milk. Until nine days the cow will give colostrum milk.

Even a very large quantity of milk, will yield to a very little output.

Instead of palm jaggery / jaggery, sugar can also be added. Sugar is in least preference when compared to the other two.
                   Once when preparing this sweet recipe, I added a lot of jaggery. I had to rectify that mistake, so then added some grinded coconut, which became a new dish. Tasted similarly to theratti paal ( a famous tirunelveli recipe). Will post that recipe in the near soon.