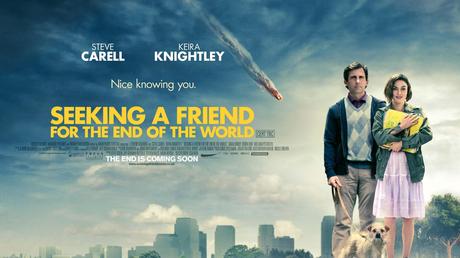 two of my least favorite actors, Steve Carell (40 year old virgin) and Kiera Knightley (underbite), and a concept that sounds so utterly schmaltzy and vomit inducing...
...EVERYBODY NEEDS TO SEE THIS WONDERFUL FILM.
Seriously, I'm not even taking the piss or trying to be clever.
Every now and then a film comes along with such an amazing script, such wonderful characters; Carell, Knightley and that dog, and such an engrossing and caring narrative that you just can't take your eyes off it.I knew as soon as I started watching this, it would be an Instant Classic example of the art of 'exactly what escapist cinema should be'. The free-love, the drugs, the vinyl, the survivalist, the lost dad, the missed bride, the unlikely relationship...
This film didn't flinch from its original 'end of the world' premise and it carried it through with faithful conviction, right to the end. Daylight Savings Time, indeed. One can only hope Cloud Atlas is half as good as this gem.
Beautiful.