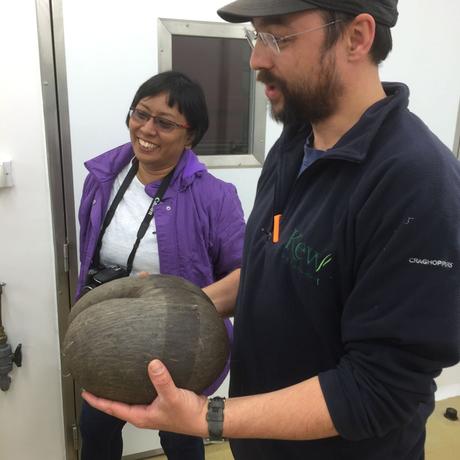 KIM HARDASSIAN
NEWS COPY - WITH PICTURES - by Nigel Wallace
The double coconut seed, from the coco de mer plant, even has the telltale cleft - just like the asset that made Kim one of the most famous people on the planet.
The bum-shaped seed is approximately measured at 30cm x 30cm and a whopping 7.5kg in weight, about half the dimensions as the reality star's famous derriere.
Originated from Singapore, the coco de mer seed was shipped to the Royal Botanic Gardens in Kew, West London, for the first time in the centre's history.
The seeds are 'recalcitrant', meaning that unlike most seeds they don't live long after being dried like traditional seeds.
After a quick check over by Kew's quarantine team, it was whisked away by the gardens' head of glasshouses Nick Johnson and planted behind the scenes in the tropical nurseries - in the hope it will turn into the massive plant.
Mr Johnson described the arrival of the giant seed as a "once in a generation" event.
He said: "The species had male and female individuals so staff in Singapore had to grow two plants, get them to flower at the same time and pollinate them by hand before leaving the seed to grow on the palm for around eight years.
"The seed's impressive proportions made it the most unusual one we have ever encountered during my time at Kew."
It is being grown in a secret location at the moment but should it sprout a shoot, which is a big if, it will be made the centre of a major display at the gardens.
Kew Gardens is no stranger to bizarre plants.
In April, the world's largest and possibly stinkiest flower - the titan arum - burst into bloom , though you had to be quick if you wanted a sniff as it only stayed in flower for about four days.
ENDS