Wow Wednesdays:
The last leg of our three day Texas Hill Country journey brought us to San Antonio. We had seen a lot, enjoyed the water at Schlitterbahn New Braunfels hand wined-and-dined at the JW Marriott San Antonio. Now we had to make a trip to one of the most historical places in Hill Country, San Antonio. However, we only had a few hours to enjoy the sites and show little man some of the landmarks that might not make a huge impact now, but would give me a basis to continue his learning lessons in Texas history (yes, we are proud Texans!)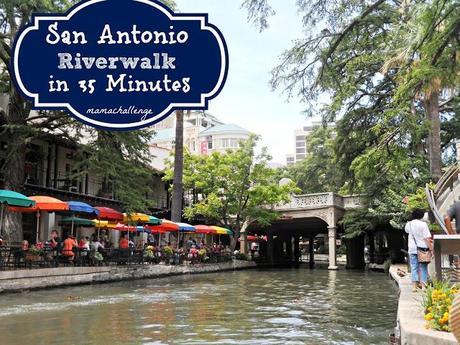 Once we ventured into Downtown SA in the Toyota Highlander, we were lucky to find a parking spot next to the Riverwalk (thanks to the valet parking helper) and make our way down waterside rather easy. July is hot and humid in San Antonio, so we wanted to make a plan quickly before we melted and lunchtime created a huge rush along the riverside restaurants. So what to do on the Riverwalk when you have a five-year-old in the middle of the summer? 
One of the things I had never done as many times as I have been to San Antonio over the years was take a Riverwalk boat tour. For only $8.25 for adults and $2 for my son, we were able to cruise the river with Rio San Antonio Cruises. To be honest, I was pretty excited as well, so we jumped on and let our lovely guide give us the quick version of how the Riverwalk became the Riverwalk. 
Our guide was full of information and humor as we made our way down Paseo del Rio. While you don't go end-to-end, the 35-minute tour is just enough to get your lay of the land, especially if you've never done the Riverwalk. You also get a chance to take some great photos and stake out your dining spot (a must-do in my opinion for any San Antonio trip (the people watching is priceless plus it's just beautiful!) 
While the Alamo is not along the San Antonio River, it is very close and another requirement for any San Antonio trip. So we ran over a few blocks and snapped the obligatory photo. While a tour of the Alamo is also a must-do, I felt like a few more years would really make a bigger impact so we saved that one for our next family Hill Country trip. 
After looking at our 72-hour jaunt to Hill Country, I can't believe we were able to enjoy so much of so many things that Texas has to offer - and it was just one area of The Lone Star State. What I also learned is what we'll do for our next trip - and perhaps the next time we'd let daddy and the little girl come. Maybe.