Karen Gillan has joined the cast of an American television show.  Huzzah!  It's a show which airs past-midnight and though very funny is seen by very few.  Well….it's a good start.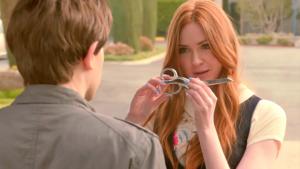 Yes, Karen. That is a pair of scissors. Very good. Now, what do we not do with scissors?
Historically, any Doctor Who actor who leaves the show with designs on spring-boarding to international stardom instead faces a future of acting in genre television and signing endless autographs at Doctor Who-related conventions.
Screw those depressing tales of Doctor Who actors past.  Today is a different day.  Doctor Who is no longer the cultural institution in Britain that is little-seen in America.  Heck, it's made the cover of Entertainment Weekly multiple times.  Sure, post-show Christopher Eccleston has mostly just popped up in random movies, most regrettably as one of the villains in the first G.I. Joe.  And, yes, David Tennant's American TV show Rex is Not My Lawyer never made it past the pilot stage, and his bid for film stardom stalled with his admittedly hilarious turn in the little-seen Fright Night remake.  He's doing great, but mostly after having returned to British television.  But, hey, Catherine Tate crossed over to America, starring in the final two seasons of The Office.  Sure, those were the post-Steve Carell years (i.e., the ones nobody watched), but still she was in an NBC sitcom (i.e., the ones nobody watches).
Entering these murky waters are Karen Gillan, Arthur Darville, and Matt Smith.  Darville's on Broadway right now in one of the leads roles in the musical Once.  Smith is in Ryan Gosling's directorial debut.  However, ole long-legged Amelia Pond has 'em both beat.  Since leaving the show, she's scored roles in several small films while also joining the regular cast of Adult Swim's NTSF:SD:SUV and scoring a gig as one of the 3 villains in Marvel's forthcoming mega-budget comic book movie Guardians of the Galaxy.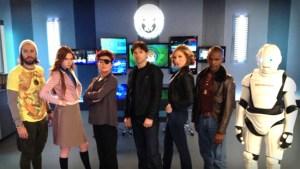 [Left to Right] Martin Starr, Karen Gillan, Kate Mulgrew, Paul Scheer, June Diane Raphael, Brandon Johnson, A guy in a robot suit in NTSF:SD:SUV.
Wait, a second.  What the heck is
Well, I'm glad you asked, other me. The title is a series of acronyms standing for National Terrorism Strike Force: San Diego: Sport Utility Vehicle. It is a parody of police procedural dramas, specifically CSI, as well as action films, and has aired 26 episodes across 2 seasons on Adult Swim since 2011.  It was created by Paul Scheer (also creator of the fantastic podcast How Did This Get Made?).  He stars as Trent Hauser, who mostly functions as a parody of any number of CSI leading men.  Similar to the animated shows which ushered Adult Swim into existence (Harvey Birdman: Attorney at Law, Sealab 2021) and the show which began the transition to live-action (Children's Hospital), NTSF:SD:SUV specializes in completely absurdist humor.
Here is a clip from an earlier episode which was a James Body parody featuring Jeff Goldblum(!) as the villain:
Karen Gillan has been added to the show's cast for its upcoming third season, replacing Rebecca Romijn who left for a slightly higher-profile role in TNT's new King & Maxwell.  
The first clip featuring Gillan in the show was released online yesterday.  She is featured with Paul Scheer in the clip:
The new season of NTSF:SD:SUV is set to premiere next week on July 25 at 12:15 (ET/PT) on Adult Swim.  As with most Adult Swim shows, each episodes runs 11 minutes long, 15 when you add in commercials.
As much snark as I've thrown out at about the rather low profile of NTSF:SD:SUV, I am a big fan of the show and can't wait to see Gillan's work in it.  Romijn typically featured as little more than a bit player, which tends to focus more on the central trio of Scheer, Raphael, and Johnson.  So, it remains to be seen how large of a role Gillan will play on the show.  However, based upon the show's first 2 seasons its bound to be funny.
What do you think?  Looking forward to this?  Not?  Never seen NTSF:SD:SUV?  Let me know in the comments.