It is said that a measure of a person's character is how you treat people whom you don't have to treat nicely, i.e., people who are your power subordinates and underlings.
By that measure, Hillary Clinton fails utterly, for it is well known that she treats her underlings with dismissive disdain and contempt.
When her husband was President, people were told not to look at or speak to her if they happened across her in some hallway of the White House. As recounted by Ronald Kessler in his book, First Family Detail, former FBI agent Coy Copeland said that within the White House, Hillary had a "standing rule that no one spoke to her when she was going from one location to another. In fact, anyone who would see her coming would just step into the first available office." A former Secret Service agent said, "If Hillary was walking down a hall, you were supposed to hide behind drapes used as partitions."
Hillary was and is especially rude and contemptuous toward those charged with protecting her with their lives — Arkansas state troopers (when Bill was governor), military aides, and Secret Service agents whom Hillary treats as if they were her servants. See:
Hillary Clinton is a monster, says Secret Service agents

Ex-Secret Service agent: Jekyll & Hyde personality makes Hillary unfit to be President

Hillary's 'arrogant' aide Huma Abedin – tried to force her way past Secret Service agents without ID and expected them to carry her luggage
But those pesky "little people" have teeth and they bite back.
It turns out that the Secret Service is the source of leaks on Hillary's rapidly deteriorating health.
According to InfoWars reporter Joe Biggs, during the Republican National Convention last June, two Secret Service agents approached InfoWars and asked to speak to them. Biggs describes what happened, beginning at around the 5:30 mark of the video below:
"The Secret Service contacted me. They said that Hillary Clinton has Parkinson's disease. They [Hillary's people] spent over a quarter million dollars on these stairs…to allow her to step down from the vehicle to the ground because she has trouble walking. They [Secret Service] said that any kind of flashes or strobes will set her off into a seizure, and that's why they wanted to come us. They wanted to contact us and give us information because they knew we [InforWars] would be able to get this out. [Unlike the MSM,] we wouldn't be scared to do it. And you know it really makes a lot of sense when you watch all these videos. The fact that she's refusing to do…these news conferences."
Hillary had not done a press conference for 8½ months. Her last press conference was on December 4, 2015. (Washington Post)
At this point, Alex Jones makes the observation that Hillary's campaign rallies seem to have fewer flashes and strobe lights as Trump's rallies. So Biggs proposes that InfoWars brings cameras with flashes and strobe lights to one of Hillary's rallies and see if they're stopped at the gate and barred from bringing the equipment inside.
Biggs concludes:
"It's coming down to the wire. Her health is fading very fast. And it kind of makes you wonder what's gonna happen, if they're really trying to lift her up. I mean it's almost like this is the [movie] Weekend at Bernie's. They're doing everything to hold her up. You see these guys walking alongside of her, injecting her with different stuff…. Just to keep her going, a little bit more, a little bit longer, that's what they're trying to do. It's so confusing to try to find out why they're trying to push her so far."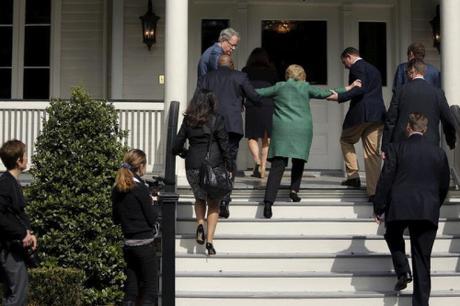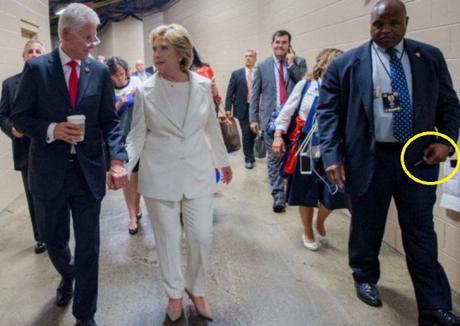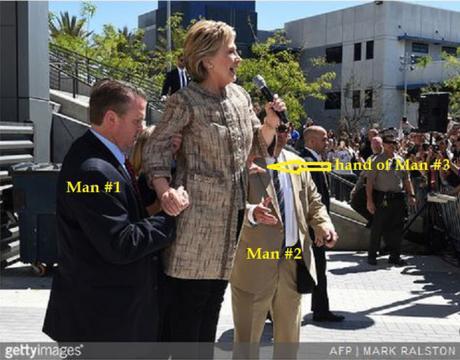 Here's a news video of Hillary, asked a question by an NBC reporter, having a brain seizure on camera:
On Hillary's rapidly deteriorating health, see:
Website offers $1M bounty for Hillary Clinton's medical records

Hillary Clinton wears a catheter?

Strange bulges under Hillary's coat suggest a defibrillator vest

New photo of Hillary being propped up so she wouldn't fall

Hillary Clinton is unfit to be President: Photographic proof she has seizures

Is the hole in Hillary Clinton's tongue from cancer surgery?

Bombshell: Hillary Clinton has dementia according to leaked medical records

There is something very wrong with Hillary

Did Hillary have a brain seizure on camera?

Best explanation for Hillary's coughing fits

Hillary's health: her meds, thick eyeglasses, and what doctors say

Hillary Clinton is 'often confused'

Hillary is dealing with mounting health issues, new book claims

Hillary Clinton said to have multiple sclerosis; a stroke risk

Ophalmologist says Hillary's thick glasses were for double vision from 'severe head trauma'

Does Bill Clinton have Parkinson's disease?
~Eowyn