One of the things that I love the most about the Secret Recipe Club is that it forces me to try some new recipes. I try to pick dishes that I wouldn't normally make. This month I searched through Anne's blog, Authentically Simple, where she focuses on budget friendly family meals and found Garden Fresh Meatloaf Balls.
Since I am new to liking meatloaf I figured these would be easy to make, delicious and I would be able to freeze some too. Success! With only about 10 minutes of prep time I threw them in the oven and was able to get some blog work done, take the dogs for a quick walk and come home to clean up the kitchen and have dinner. The perfect week night meal.
I served mine with ketchup while Scott dunked his in sriracha. These went fast! I did one batch in a normal sized muffin tin and the rest in the mini muffin tin and froze them. They were cute little mini meatloaf meatballs. I may even try to use them in a soup.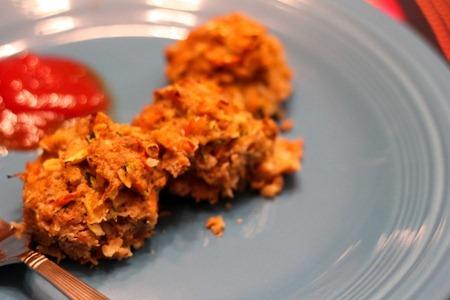 Turkey Meatloaf Balls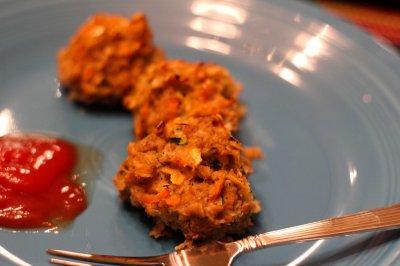 Prep Time: 10 Minutes
Cook Time: 40 Minutes
Keywords: entree turkey
6041535
Ingredients (18-36 Mini Meatloaf Balls)
2 lbs ground beef or turkey
2/3 cup rolled oats
1/2 cup unsweetened applesauce
1 zucchini, shredded
2 carrots, peeled and shredded
2 cloves garlic, minced
1 tbsp oregeno
1/4 tsp red pepper flakes
3 TBSP ketchup
1 egg
Salt/Pepper
Instructions
Combine all ingredients in a large bowl until well blended.
Form into large balls and place in muffin tins (makes about 18) or mini muffin tins (makes about 36).
Bake at 350F for 35-40 minutes.
Powered by
Recipage