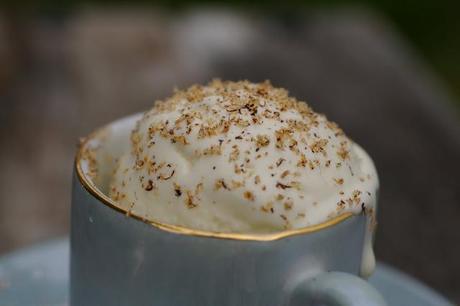 We are now at # 49 in our
Gourmet 50 Women Game Changers
. Mary from
One Perfect Bite
leads us through all
50 women game changers.
Today we are featuring Soraya Darabi and Alexa Andrzejewski. Soraya Darabi and Alexa Andrzejewski are the founders of the culinary photo app Foodspotting. Foodspotting began when Alexa and her husband noticed everyone taking pictures of their food while on a trip to Japan. This inspired her, for when she got home she didn't know how to identify the dishes. Foodspotting also began a coffee table book, chock full of gorgeous photos and unique eats. It wasn't until she met up with Ted Grubb who was developing a food app, did she decide to make Foodspotting an app. Shortly after that she was introduced to Alexa and her husband Foodspotting launched at SXSW 2010 with a beta version of the iphone app. Alexa and her husband manage the company. It was Alexa's vision, while Soraya's contribution has been marketing, business development and product partnership I decided to make Secret Breakfast Ice Cream. It is made by Humphry Slocombe in San Francisco. It is good, but I dont think I would be eating this boozy cornflake ice cream for breakfast. I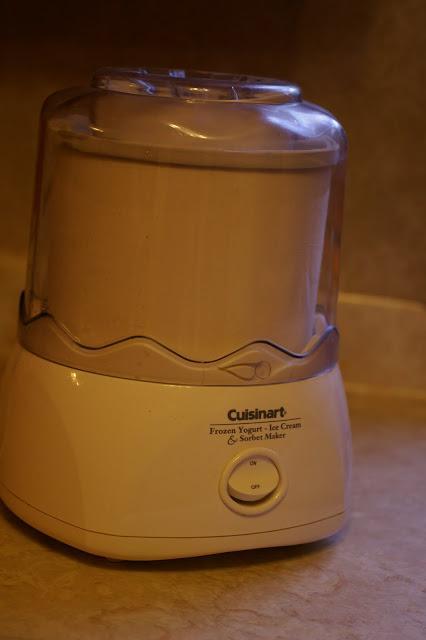 So you see, there is really no reason for you not to enjoy ice cream.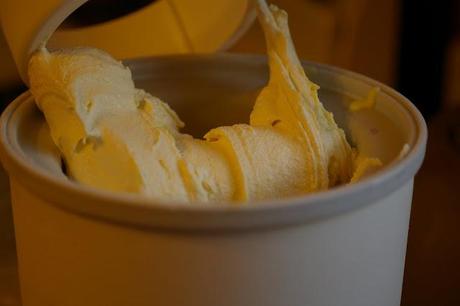 Secret Breakfast Ice Cream
   2 cups half-and-half 3/4 cup sugar 6 egg yolks 1 cup heavy cream 1/2 cup corn flakes 5 tablespoons bourbon 2 tablespoons vanilla extract
Directions
 Heat half-and-half in a 4-qt. saucepan until it just begins to simmer. Remove from heat;  In a bowl, whisk together sugar and yolks. While whisking, slowly pour in half-and-half mixture. Return mixture to pan; cook, stirring, until mixture thickens, 8–10 minutes. Add cornflakes. Whisk in bourbon and vanilla extract, cover custard and chill.
Freeze custard in an ice cream maker; transfer to an airtight container. Freeze until set before serving. Garnish with grated nutmeg.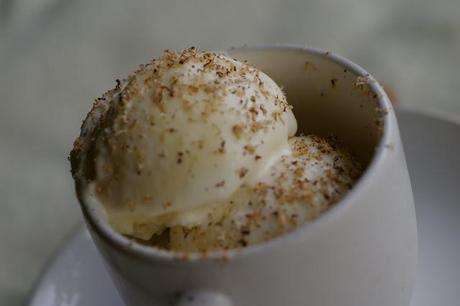 The following bloggers are also featuring the recipes of Soraya Darbi and Alexa Andrzejewski
today. I hope you'll pay them all a visit. It is wonderful to see what they all have to bring to the table.
Val - 
More Than Burnt Toast
, Taryn - 
Have Kitchen Will Feed,
 Susan -
 The Spice Garden
Heather -
 girlichef
, Miranda - 
Mangoes and Chutney
, Amrita - 
Beetles Kitchen Escapades
Mary - 
One Perfect Bite
, 
Sue - 
The View from Great Island
, Barbara - 
Movable Feasts
Linda A -
 There and Back Again, 
Nancy - 
Picadillo
, Mireya - 
My Healthy Eating Habits
 Annie - 
Most Lovely Things
, Jeanette - 
Healthy Living
Claudia - 
Journey of an Italian Cook
,
 Alyce - 
More Time at the Table
, 
Kathy - 
Bakeaway with Me
, Martha 
Simple Nourished Living, 
Jill - 
Saucy Cooks,
Sara -
Everything in the Kitchen Sink
Next week we will highlight the career and recipes of Julie Powell
. 
Peace be with you, Veronica