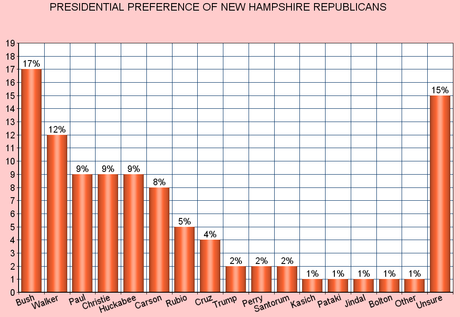 I brought you the NH1Poll of New Hampshire Republicans preferences for president last week. But a second poll was being done in that state, and has now been released. It is the University of New Hampshire / WMUR Granite State Poll -- done between January 22nd and February 3rd of a random sample of 348 GOP primary voters, with a margin of error of 5.3 points.
This UNH / WMUR Poll shows basically the same thing as the NH1 Poll did -- that while Walker has gained some ground and Bush has a small lead, there really is no actual leader. This race is still wide open, since no one can yet claim even 20% support in New Hampshire.
The poll also asked how those voters viewed each candidate -- favorably or unfavorably. Those results are shown below. Two of the candidates had an upside-down favorability rating -- Rick Santorum at 29-34, and Donald Trump at a horrible 19-69. Some others had an unfavorable rating inching closer to their favorability -- Perry, Cruz, Huckabee, Christie, and Bush.