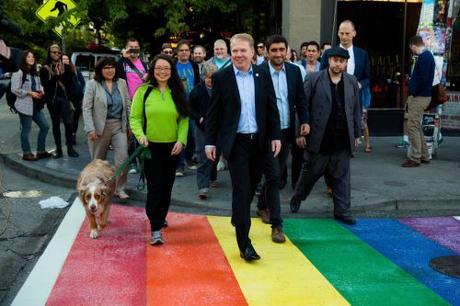 Mayor Ed Murray along one of Seattle's rainbow sidewalks – designed to fight crime!
In January this year, Seattle Mayor Ed Murray announced that the city would open safe lots for homeless families and individuals living in vehicles. From the press release, "In response to the continued crisis of homelessness on the streets of Seattle, Mayor Ed Murray issued an emergency order to expedite the siting of two safe lots in Ballard and Delridge for homeless individuals and families living in recreational vehicles and cars."
In April, I told you how city officials hadn't properly done their homework and were shocked to find the high costs associated with operating these safe lots. The safe lot in Ballard costs over $35,000 per month.
And while these lots are "temporary", the city had a goal to help move homeless people to permanent housing as quickly as possible. That's working out as well as you would expect from a progressive city.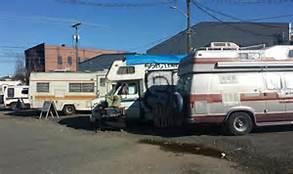 Ballard RV lot in Seattle
From KIRO 7 News: The city of Seattle says it has placed one person in permanent housing after running its RV safe lot in Ballard and its RV safe zones in Interbay and SODO for several months. The person was placed after residing at the safe lot; no one was placed in housing from the safe zones. This is despite the mayor's stated main goal for the sites, helping move people "to permanent housing as quickly as possible."
The information comes as the city mulls what to do next; the Ballard safe lot is scheduled to close on August because its site will be needed for another project.
KIRO 7 has confirmed two RVs were asked to leave the safe lot because of reported drug activity, which is against the lot's rules.
One woman who lives at the Ballard safe lot said the wait to get into housing is long. Rochelle Dumas said she and her husband have had their RV parked at the safe lot for three months. "I'm on the housing list," she said. "I call in every month. I'm on the list. But it could take up to five years to get in there."
Dumas is one of more than 80 people living in the safe lot and the Interbay and SODO RV safe zones. In addition to providing permanent housing, the sites were also a solution to concerns about trash and crime related to RVs parked along residential streets.
"They seem to be working OK," Cindy Pierce, president of the Neighborhood Safety Alliance, said of that goal. "They've gotten people off the streets and there's been less – they haven't had to go out and clean as often, because they're in one place."
Pierce said she was sadly unsurprised to see the housing results. "We've had one individual who has taken services," she said. "Those statistics aren't very good."
KIRO 7 asked Sola Plumacher, with the city of Seattle's Human Services department, about the results. "People see that and say, 'Oh, that's a low number. Is this really worth it?' What's your response to that?" KIRO 7 asked. "We're continuing to work on what our best response is for people who are living in their vehicles," Plumacher said. "It takes a long time to move folks into housing." Plumacher said there are a lot of individuals "competing for the same resources."
The safe lot, which has 24-hour security, costs about $35,000 a month to run. The safe zones, which do not have that kind of security, cost about $5,300 a month to run. Residents have to agree to work with a case worker to join the safe lot; the same is not required to live in the safe zone.
"We definitely see that the safe zone response is a bit more cost effective and almost has the same outcomes," Plumacher said. "We want to be look at a less costly solution, so maybe it's not staffed 24-7."
Pierce wants to see a study of who the residents are and how many truly want housing and work."We need to find a temporary safe lot for these individuals — so we can help them get back on their feet," she said. "I thought that's what this lot was for."
Dumas said that given the length of time it takes to get permanent housing, the city should find a mobile home park that will allow the RVs on its lots. "A lot of [us]have income," she said. "SSI [Supplemental Security Income disability]. I do, but it's not enough to get into an apartment. But it's enough to pay for a lot. The only thing you pay for is the lot."
KIRO 7 reached out to Seattle's Human Services Department about Dumas's suggestion. The city is expected to release a report assessing the effectiveness and impact of the safe lot and safe zones sometime in June.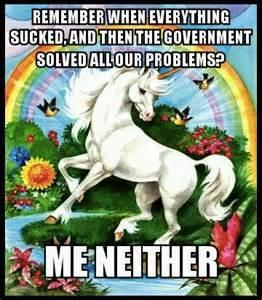 DCG