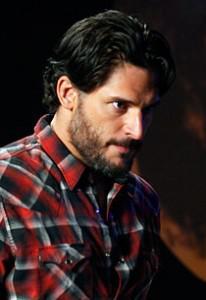 We've got some mild spoilers for you, straight from the horse's mouth.  Or rather, the werewolf's, witch's, and shifter's.  Joe Manganiello, who plays True Blood's werewolf Alcide, gives us a general feel for the ambiance next season:
"There's going to be a lot of people not getting along. The witches are starting trouble with the vampires, and the werewolves, of course, don't like the vampires, either. And the fairies don't like the vampires."
Kevin Alejandro portrays Lafayette's boyfriend, Jesus Velasquez.  He just happens to be a brujo, or male witch, and ends up sharing a disgusting meal with his man:
"Lafayette and I go on a huge adventure where some unfortunate things happen. We end up having a very creepy breakfast with some really interesting people, and Lafayette has a real hard time with it. It's going to turn your stomach!"
Which would you rather eat, poisonous snake venom, goat tongue, or cow face?  None of the above, you say?  Well, unfortunately, the handsome couple do end up ingesting one of those three "delicacies".
A brother-battle ensues as Sam and Tommy take to the skies as an owl and a hawk — but the shape-shifting doesn't end there.  According to Marshall Allman (Tommy):
"Tommy takes shape-shifting to a whole other level with a unique wild-card creature that will prove to be a game-changer in Bon Temps' supernatural power play."
How much crazier can it get?  We'll all have to wait and see!
Source: TVGuide.com – Keck's Exclusives: True Blood Ups the Insanity
(Photo credit: HBO, Inc.)