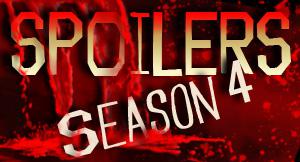 TV Line has some spoilers about the so called "evil baby or evil doll."  In episode 4 of this season which aired on Sunday, we saw the writing on the wall that there is something weird about either this baby or it's doll. When the words "Baby Not Yours" was written on the wall, Arlene, Terry and the kids were not too happy.  And, what's going to happen to Hoyt and Jessica now that Jason has drank Jess's blood?
Read the minor spoilers after the cut.
Question: I have to know, any idea if Terry and Arlene's baby on True Blood is actually evil, or is Arlene just paranoid? —Hanna
Ausiello: Having seen the next three episodes, I'm gonna go with evil. Look for that little demon spawn to develop a bad case of pyrokinesis later this month.

Question: Any True Blood scoop? —Deb
Ausiello: Move over Eric/Sookie/Bill. There's a new triangle in town, and the participants are named Hoyt, Jessica and Jason. Elsewhere, a major female character will soon be in desperate need of a plastic surgeon, while a major male character takes on a surprising dual role. And I know I told Eric/Sookie/Bill to move over, but let's bring 'em back for a second. Feast your peepers on this tantalizing tease for the Aug. 21 episode: "Convalescing after her latest near-death trauma, Sookie envisions a world where there's room for both Bill and Eric." If that's not a euphemism for a threesome I don't know what is.
source: tvline.com