from Sea Shepherd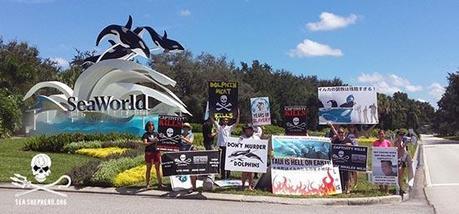 On Sunday, September 14, 2014, more than 100 volunteers joined forces to stand in front of SeaWorld, representing the dolphins and whales held captive in tanks, as members of the International Marine Animal Trainers' Association gathered at the marine park for their largest conference. In 94-degree weather, with little to no shade, Sea Shepherd Onshore Volunteers stood side-by-side with dedicated supporters who traveled to Orlando from as far as Minnesota.
The demonstrators created a "living gallery" of Sea Shepherd's "From the Cove to Captivity" photo exhibit as they stood in front of SeaWorld, displaying the inextricable link between the slaughter of dolphins and small whales in Taiji, Japan and the global marine mammal captivity industry. The exhibit features powerful photographs taken by Sea Shepherd's volunteer Cove Guardians who stand watch over Taiji's infamous cove during Operation Infinite Patience, now in its fifth consecutive season. Entire pods of cetaceans face captivity or slaughter once driven into the cove.
In 2006 IMATA issued a statement that condemned the inhumane killing of cetaceans in Japanese drive fisheries. However, IMATA continues to support, train and certify businesses that profit from the annual drive hunt and slaughter of dolphins and small whales in Taiji.
Along with the photo exhibit, volunteers from 10-years-old and up showed their support for an end to the slaughters that are driven by the captive industry, in which SeaWorld plays a large part. Facts on orca and dolphin captivity — including lifespan, diet, and inbreeding — were given to those waiting to enterSeaWorld. With the words "you may say you don't care, but now you can't say you didn't know" ringing in their heads, visitors to the park were met face-to-face with the reality of what they are supporting as paying customers of SeaWorld.
The Cove Guardians live streamed to the world yesterday, September 16, as the first pod of the 2014-2015 Taiji drive hunt season was driven into the cove and slaughtered, following 15 days of blue cove days. The panicked group of approximately 8-9 Risso's dolphins huddled together in their final moments as a family, before being taken under the tarps that hide the murdering ways of the dolphin killers.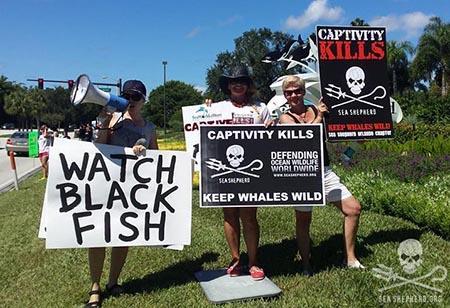 Sea Shepherd's Cove Guardians are the only group on the ground in Taiji throughout the entire six-month hunt season, live streaming every capture and every slaughter for the world to see. Providing a window to Taiji, the Cove Guardians ensure that not one dolphin or whale is killed unseen, and they will not stop until the waters of the cove no longer run red with blood.
The brutality of Taiji's cetacean slaughter will once again be shown to a large audience when Sea Shepherd's exhibit, "Taiji Dolphins: The Truth Behind the Tarps" comes to Encore at Wynn Las Vegas this weekend. Please join Sea Shepherd for this special event, free and open to the public September 19-21, featuring M/Y Steve Irwin Chief Engineer, Erwin Vermeulen, who was jailed in Taiji in 2011, and Scott West, former Cove Guardian leader and Sea Shepherd USA's Director of Intelligence & Investigations