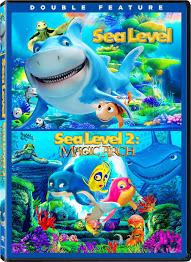 Have twice the fun for the entire family with this animated double feature that includes SEA LEVEL and the all-new SEA LEVEL 2: MAGIC ARCH, arriving on DVD, Digital, and On Demand September 29 from Lionsgate. These underwater adventures will be available on one disc for the suggested retail price $16.98. 
ABOUT SEA LEVEL: Pup, a bamboo shark, discovers egg sacs while playing around the ocean with his friends. When he sees human poachers stealing the eggs from his reef, Pup makes it his mission to save his family. As he leaves the sea and enters the beautiful, yet dangerous, world of humans, he will prove he isn't too small to save his family. 
ABOUT SEA LEVEL 2: MAGIC ARCH: This thrilling, colorful comedy will take your family under the sea to a land of courage and adventure. One day, Dephi the dolphin discovers a magical archway that grants wishes to all who visit. But evil moray eels use the arch to become gigantic and menace peaceful Fish Town. Now, Delphi must summon his courage, master his "secret punch" fighting technique, and find his missing father to rescue his friends and win the love of pretty Mia. It's time for this dolphin to get swimmin'! 
 WATCH THE TRAILER!
    Stay tuned to this site because I'll be offering a giveaway of this DVD very soon!